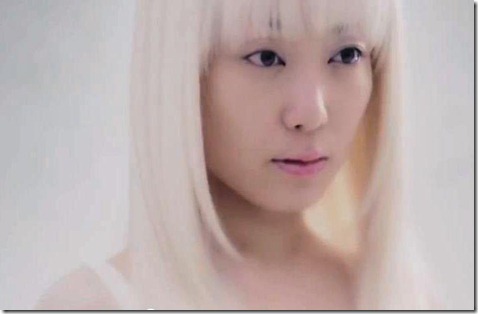 Minami Kuribayashi recently updated the release details on her 30th single "Doubt the World" and has just revealed a preview length music video for the title track. Her new single has a tie-in as the second opening theme for anime Muv-Luv Alternative: Total Eclipse. Single "Doubt the World" comes in three editions and hits stores November 28th – read on for release details and preview music video.
Minami Kuribayashi has been closely involved with the Muv-Luv game franchise since its start back in 2002 – providing the voice of character Kasumi Yashiro and her first single "Muv-Luv" (2002.04) used as the original theme song for the game. She has provided several other opening and ending theme songs for the Muv-Luv games.
Most recently Kuribayashi provided the anime adaption Total Eclipse first ending theme with her 28th single "signs – Sakutsuki Hitoyo" and she provided insert song "True 4 Eyes" used in episode 4. No information on when the new opening theme "Doubt the World" will start airing.
Minami Kuribayashi also recently released her 29th single "BELIEVE" which is featured now as the opening theme song for anime "Medaka Box Abnormal". The single hit stores on October 24th – updated release details are available here.
Anime Total Eclipse (full title Muv-Luv Alternative: Total Eclipse) is adapted from a spin-off novel from adult PC game "Muv-Luv Alternative". The story is set it an altered history where aliens called BETA have invaded earth and for the past 30 years have been wiping out humanity. As the BETA march on to Japan a group of rookie high school girls mount their mechanized Tactical Surface Fighters to protect their base.Three years later what remains of the of the TSF forces in a joint development project with the USA are in Alaska with hopes to develop the needed technology to fight the BETA before all of humanity is gone.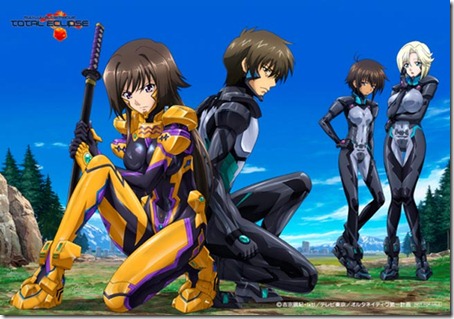 The anime began July 1st in Japan on TV Tokyo with 19 episodes aired so far. It streams same time (Sundays 10:30pm PDT) on Crunchyroll – check out the available episodes – hit the link for: Total Eclipse. Also check out Crunchyroll updates page for all the latest anime episodes being simulcast streamed.
Preview music video for "Doubt the World" follows after the release details…
Minami Kuribayashi – "Doubt the World" – release date November 28th 2012
Limited [CD+DVD] (¥1890)


Limited Pressing Anime [CD+DVD] (¥1890)


[CD]
1. Doubt the World
2. snow story
3. Doubt the World (off vocal)
4. snow story (off vocal)
[DVD]
1. Doubt the World (music video)
[CD]
1. Doubt the World
2. snow story
3. Doubt the World (off vocal)
4. snow story (off vocal)
[DVD]
1. creditless opening animation Total Eclipse
Regular [CD] (¥1260)


[CD]
1. Doubt the World
2. snow story
3. Doubt the World (off vocal)
4. snow story (off vocal)
Total Eclipse Official website