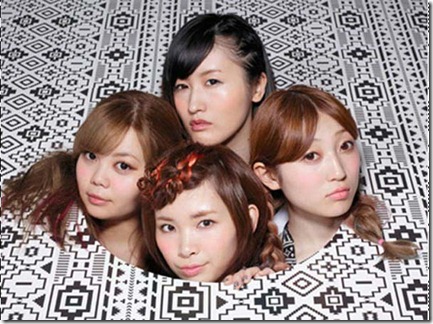 NEGOTO has updated the release information on their new single "Lightdentity / Re:myend!" – full track list and cover jackets have been revealed. The two main songs on the single have a tie-ins – "Lightdenity" is CM song for Nasufuru Tenshoku nurse job recruitment and single "Re:myend!" will be featured as theme song for animation movie After School Midnighters (Hokago Middonaitazu). The group's 4th single will hit stores on August 8th – updated information and video clips from the song tie-ins follow.
NEGOTO released their 3rd single "sharp#" which is featured as the second ending theme for anime Mobile Suit Gundam AGE on April 4th – check out the release details here.
"Lightdentity / Re:myend!" is offered in two editions:
– Limited with bonus DVD that includes 3 song performances from their recent live show at Shibuya AX on May 12th
– Regular CD-only.
Video clips for the CM that features song "Lightdentity" and movie After School Midnighters in theaters August 28th that features "Re:myend!" follow below the release details.
NEGOTO – "Lightdentity / Re:myend!" – release date August 8th 2012
Limited [CD+DVD] (¥1575)


Regular [CD] (¥1260)


[CD]
1. Lightdentity
2. Re:myend!
3. Houkou
[DVD] Shibuya AX May 12th
1. Kisetsu (live)
2. Merushiru (live)
3. sharp # (live) 
[CD]
1. Lightdentity
2. Re:myend!
3. Houkou
CM theme song "Lightdenity" by NEGOTO
After School Midnighters – theme song "Re:myend!" by NEGOTO