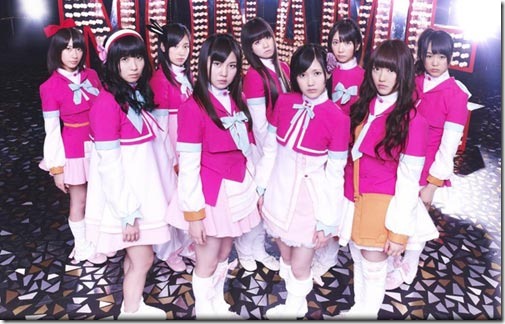 NO NAME is the unit formed by the nine AKB0048 anime voice cast of AKB48, SKE48, and NMB48 idols. Besides voicing the characters of aspiring junior idols in the anime they've formed NO NAME to provide opening theme "Kibo ni Tsuite" and closing theme "Yume wa Nandomo Umarekawaru" for anime. Both songs are part of their debut single "Kibo ni Tsuite" (release details) which is due out August 1st. They have just exposed a promotional video with footage for both versions of the music video and off shoot footage for "Kibo ni Tsuite" – video follows.
NO NAME and voice cast members are: Nakaya Sayaka (AKB48), Sato Amina (AKB48), Hata Sawako (SKE48),Sato Sumire (AKB48), Watanabe Mayu (AKB48), Yagami Kumi (SKE48), Ishida Haruka (AKB48), Iwata Karen (AKB48), Mita Mao (NMB48).
These 9 were selected in a competition of all 200 members of AKB48, SKE48, NMB48, HTK48 – more information about the selection process is in a post here and here.
"Kibo ni Tsuite" is offered in four editions that share the same CD track list, the type-A versions cover jacket is photo of members, type-B versions cover jacket features anime version drawn by Risa Ebata (Macross Frontier).
Promotional video with preview of the "Kibo ni Tsuite" music videos in both member (type-A) and anime (type-B) versions plus preview of the off-shoot footage for both follows below the release information.
NO NAME – "Kibo ni Tsuite" – release date August 1st 2012
Limited A [CD+DVD] (¥1600)


Limited B [CD+DVD] (¥1600)


[CD]
1. Kibo ni Tsuite
2. Yume wa Nandomo Umarekawaru
3. Niji no Ressha (episode 13 ED)
4. Kibo ni Tsuite (off vocal)
5. Yume wa Nando mo Umarekawaru (off vocal)
6. Niji no Ressha (off vocal)
[DVD]
1. Kibo ni Tsuite (music video)
2. Kibo ni Tsuite (off shoot)
[CD]
1. Kibo ni Tsuite
2. Yume wa Nandomo Umarekawaru
3. Niji no Ressha (episode 13 ED)
4. Kibo ni Tsuite (off vocal)
5. Yume wa Nando mo Umarekawaru (off vocal)
6. Niji no Ressha (off vocal)
[DVD]
1. Kibo ni Tsuite (anime ver. music video)
2. Kibo ni Tsuite (anime ver. off shoot)
Regular A [CD] (¥1000)


Regular B [CD] (¥1000)


[CD]
1. Kibo ni Tsuite
2. Yume wa Nandomo Umarekawaru
3. Niji no Ressha (episode 13 ED)
4. Kibo ni Tsuite (off vocal)
5. Yume wa Nando mo Umarekawaru (off vocal)
6. Niji no Ressha (off vocal)
[CD]
1. Kibo ni Tsuite
2. Yume wa Nandomo Umarekawaru
3. Niji no Ressha (episode 13 ED)
4. Kibo ni Tsuite (off vocal)
5. Yume wa Nando mo Umarekawaru (off vocal)
6. Niji no Ressha (off vocal)
NO NAME – "Kibo ni Tsuite" – promotion video, single release date August 1st 2012