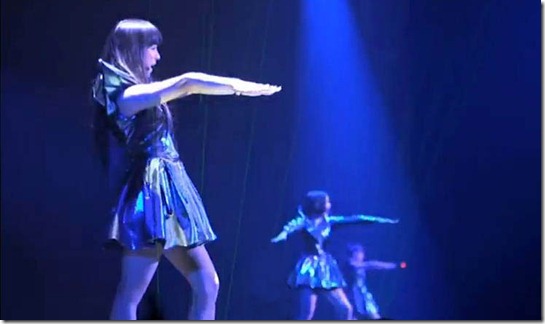 Perfume has exposed a preview video as a taste of what's on the DVD release of their sold out arena tour "Perfume 3rd Tour JPN". The video shows their performance of "GLITTER" – it and the rest of the DVD were recorded during their performance at Green Arena in Hiroshima on March 31 2012. More details on the release which is set to hit stores August 1st are available in a previous post here. The preview video of "GLITTER" follows.
Perfume's 3rd tour of Japan was their first all arena tour and it hit 13 arenas and 22 performances from January through May 2012. All performances were quickly sold out for their tour in support their 4th album "JPN". Over 200,000 fans attended the tour performances making Perfume's first national arena tour a great success.
The girls are have also announced a new single – "Spending all my time" – for release on August 15th, check out the updated release details here.
Preview video with live "GLITTER" follows below…
Perfume – "Perfume 3rd Tour JPN" – release date August 1st 2012
Limited [DVD] (¥6500)


Regular [DVD] (¥4200)


[DVD]
1. The Opening
2. Laser beam (album-mix)
3. VOICE
4. Electro World
5. One Room Disco
6. Have a Stroll
7. Ji no Hari
8. Kasukana Kaori
9. Spice
10. JPN Special
11. GLITTER (album-mix)
12. JPN Medley
13. Polyrhythm
14. P.T.A. No Corner
15. FAKE IT
16. Ne
17. Jenny wa Gokigen Naname
18. Chocolate Disco
19. MY COLOR
– encore –
20. Dream Fighter
21. Kokoro no Sport

[DVD 2]
Encore (Saitama Super Arena)
1. Spice (multi-angle)
2. Ji no Hari (Aa-chan ver.)
3. Ji no Hari (Kashiyuka ver.)
4. Ji no Hari (Nocchi ver.)
5. MC sessions
4-days at Nippon Budokan
6. Communication
7. Spring of Life

[DVD]
1. The Opening
2. Laser beam (album-mix)
3. VOICE
4. Electro World
5. One Room Disco
6. Have a Stroll
7. Ji no Hari
8. Kasukana Kaori
9. Spice
10. JPN Special
11. GLITTER (album-mix)
12. JPN Medley
13. Polyrhythm
14. P.T.A. No Corner
15. FAKE IT
16. Ne
17. Jenny wa Gokigen Naname
18. Chocolate Disco
19. MY COLOR
– encore –
20. Dream Fighter
21. Kokoro no Sport