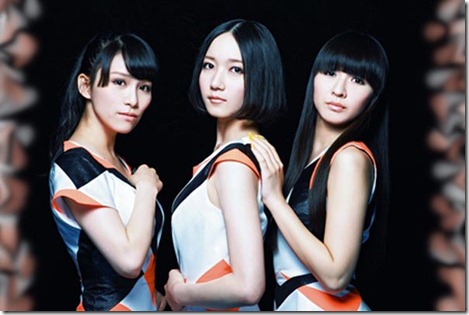 Perfume announced updated information for their new compilation album "Perfume Global Compilation LOVE THE WORLD". Cover jackets and full track list are official for their new album which will launch September 12th. The album release coincides Perfume's efforts to reach fans around Asia and the World. Perfume is also preparing the release of their 15th single "Spending all my time" on August 15th. Updated details on the "Perfume Global Compilation LOVE THE WORLD" album follow…
Perfume announced the global availability of their new single "Spending all my time" and the single's coupling songs "Hurly Burly" and "point" via iTunes stores internationally and via Chaku-Uta Full to seven Asian countries. Digital delivery coincides with the single's release date August 15th 2012 – more details on the single are here.
Perfume is preparing for their Perfume Asia Tour 2012 this Fall as part of their global initiative, they will perform in four Asian countries in smaller "house" venues:
– October 26th Neo Studio, Taipei Taiwan
– November 7th Rotunda 3, Hong Kong
– November 17th AX-KOREA, Seoul South Korea
– November 24th SCAPE, Singapore
Members of Perfume's PTA fan club can enter a ticket lottery for the possibility of attending one of the events.
The album "Perfume Global Compilation LOVE THE WORLD" includes 16 of their notable songs and comes in two editions,
– Limited includes a bonus DVD with music video and off-shoot footage for "FAKE IT" and a never before released historical live performance if their first hit "Polyrhythm".
– Regular CD-only.
Perfume – "Global Compilation LOVE THE WORLD" – release date September 12th 2012
Limited [CD+DVD] (¥3000)


Regular [CD] (¥2500)


[CD]

1. Polyrhythm
2. edge (?-mix)
3. love the world
4. Electro World
5. Chocolate Disco (2012-Mix)
6. SEVENTH HEAVEN
7. GAME
8. Secret Secret
9. NIGHT FLIGHT
10. Baby cruising Love
11. Butterfly
12. FAKE IT
13. Laser Beam
14. GLITTER
15. MY COLOR (LTW-Mix)
16. Dream Fighter
[DVD]
1. FAKE IT (music video)
2. FAKE IT (special behind-the-scenes movie)
3. Polyrhythm (Historical Live ver.)

[CD]

1. Polyrhythm
2. edge (?-mix)
3. love the world
4. Electro World
5. Chocolate Disco (2012-Mix)
6. SEVENTH HEAVEN
7. GAME
8. Secret Secret
9. NIGHT FLIGHT
10. Baby cruising Love
11. Butterfly
12. FAKE IT
13. Laser Beam
14. GLITTER
15. MY COLOR (LTW-Mix)
16. Dream Fighter