December 21, 2012
-
toyNN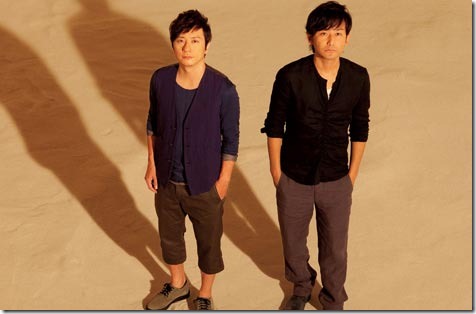 Group Porno Graffitti (ポルノグラフィティ) has announced their 37th single "Matataku hoshi no shita de" (瞬く星の下で) which will be featured as the second opening theme for anime Magi – The Labyrinth of Magic. The single is available on three editions and is scheduled to be in stores March 6th 2013. Read on for more early release details.
Most recently Porno Graffitti released "Kage Boushi", their 36th single and theme song for NHK drama "Tsurukame Josanin" which stars Naka Riisa. The single released September 19th 2012 – more details here.
Anime Magi – The Labyrinth of Magic is adapted from manga by Ohtaka Shinobu and is set in the magical world of Ali Baba, the middle-east, and Aladdin. A young Ali Baba learns that he can attain great wealth and power by conquering one of the mystical Dungeons. While traveling he meets Aladdin and they agree to find the Dungeon together.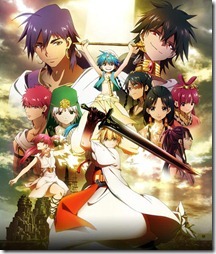 Magi – The Labyrinth of Magic began airing October 7th and can been seen outside of Japan on Crunchyroll – check our Crunchyroll updates page for all the latest episodes or hit the link for Magi – The Labyrinth of Magic for all related posts.
Single "Matataku hoshi no shita de" comes on three editions,
– Limited with bonus DVD that includes music video for the title track.
– Limited Press anime themed cover art. Available only through May 2013.
– Regular CD-only.
Release details are still early, cover jackets and full track list will be announced so come back to Comtrya Sugoi for updates.
Porno Graffitti – "Matataku hoshi no shita de" – release date March 6th 2013
Limited [CD+DVD] (¥1500)


Limited Pressing anime [CD] (¥1350)


[CD]
1. Matataku hoshi no shita de
2. undecided
3. undecided
[DVD]
1. Matataku Hoshi no Moto de (music video)
[CD]
1. Matataku hoshi no shita de
2. undecided
3. undecided
Regular [CD] (¥1223)


 
[CD]
1. Matataku hoshi no shita de
2. undecided
3. undecided
 
Magi – Labyrinth of Magic Official website