December 19, 2012
-
toyNN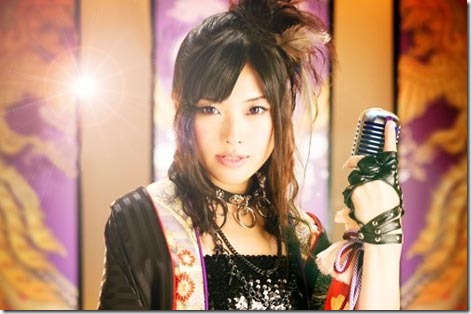 Sasaki Sayaka has updated the release details for her 7th single "Break your world" – cover jackets and full track list are revealed. Also exposed is a preview music video for the title track which is featured as the opening theme song for anime Senran Kagura. New single "Break your world" comes on two editions and is scheduled to be in stores January 23rd 2013 – read on for more release details and preview videos.
Sasaki Sayaka participated in the 2009 3rd annual Animax Song Grand Prix of Japan and out of the 6,570 who applied Sasaki rose to the top and was selected as the winner. She joined the Lantis label and debuted in 2010 with single "Seisai no Ripieno" featured as the opening theme for anime The Book of Bantorra. All of her 6 previous singles have tie-ins as theme songs for anime or games.
Not just a singer, Sasaki Sayaka for the title song "Break the world" on her new single provided the lyrics and collaborated with arranger/composer Gojo Kai (Arte Refact). For coupling song "Super Shiny Sensation!!!" she also wrote lyrics in a collaboration with arranger/composer Yajima Toshi
Anime Senran Kagura is adapted from popular Nintendo 3DS game in the genre of "Large Boobs Hyper Battle" (quote from official website!). The anime stars Asami Imai, Yu Kobayashi, and Eri Kitamura. The key visual may do a better explanation than words (click to enlarge)…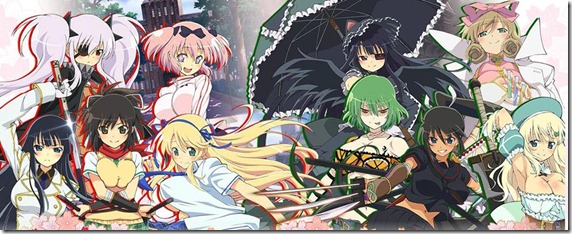 Senran Kagura begins airing in Japan on AT-X TV January 6th 2013 – no information yet on if it will be picked up for streaming outside of Japan. Enjoy the newest preview after the release details below.
New single "Break your world" comes on two editions,
– Limited with bonus DVD that includes music video for title track.
– Regular CD-only.
Enjoy the preview music video for "Break your world" after the release details…
Sasaki Sayaka – "Break your world" – release date January 23rd 2013
Limited [CD+DVD] (¥1800)


Regular [CD] (¥1200)


[CD]
1. Break your world
2. Super Shiny Sensation!!!
3. Break your world (off vocal)
4. Super Shiny Sensation!!! (off vocal)
[DVD]
1. Break your world
[CD]
1. Break your world
2. Super Shiny Sensation!!!
3. Break your world (off vocal)
4. Super Shiny Sensation!!! (off vocal)
Senran Kagura Official website