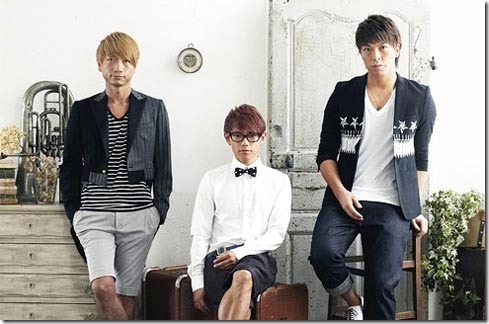 Group Sonar Pocket has a new single "Kimi to Miru Mirai" set for release. The single is the trio's 11th overall and second in 2012. Its offered in two editions and set to hit stores on August 1st. They also have exposed a preview music video for the title track on the single. Release information and preview video follow.
Sonar Pocket's first single for 2012, "Getsu Ka Sui Moku Kin do Nichi ~ Kimi ni Okuru Uta ~" (release details) came out on April 25th and made it to the 9th spot on the weekly Oricon charts.
"Kimi to Miru Mirai" comes in two editions:
– Limited with bonus DVD that includes music video and off-shoot footage for the title track.
– Regular Cd-only.
Sonar Pocket also announced special launch events for single – tickets are available from selected stores when purchasing the single and at some of the events on a first-come basis,
– August 5th Arsenal Kanayama, Nagoya (mini-live and handshake)
– August 9th Hiroshima Square, Hiroshima (talk and handshake)
– August 11th Tokyo Dome City Laqua Garden, Tokyo (talk and handshake)
– August 7th & 8th Fukuoka, Osaka (in-store event)
The preview video for the new single follows after the release details…
Sonar Pocket – "Kimi to Miru Mirai" – release date August 1st 2012
Limited [CD+DVD] (¥1350)


Regular [CD] (¥1050)


[CD]
1. Kimi to Miru Mirai
2. Summer Days!
3. Kimi to Miru Mirai (off vocal)
4. Summer Days! (off vocal)
[DVD]
1. Kimi to Miru Mirai (music video)
2. Kimi to Miru Mirai (off shoot)
[CD]
1. Kimi to Miru Mirai
2. Summer Days!
3. Kimi to Miru Mirai (off vocal)
4. Summer Days! (off vocal)
Sonar Pocket – Kimi to Miru Mirai – single release date August 1st 2012
Sonar Pocket Official website (TOKUMA Japan)