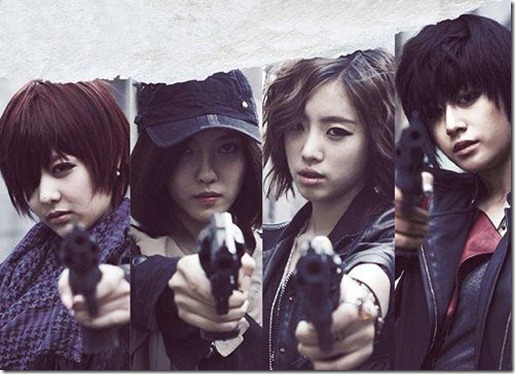 T-ARA has just exposed a teaser music video for the Korean version of "Lovey-Dovey". The music video is done as a drama version and the full version(s) will be available on their upcoming DVD & Blu-ray release "Cry Cry & Lovey-Dovey Music Video Collection" due out next week April 25th. The Korean idol group will also be releasing a Japanese single and version of "Lovey-Dovey" on May 23rd – early release details were previously posted here. Video teaser and release details on the music video collection follow,
This is T-ARA's first music video collection release and each music video is done in multiple elaborate "drama" versions (even a Zombie version!). The release comes in a Blu-ray and DVD versions and includes a 72 page photo book. According to the release only 20,000 copies are available for this "urgent" Limited Edition release in Japan.
Also upcoming for T-ARA is their Japanese version of single "Lovey-Dovey" (release details) – set for  release on May 23rd – and  their first Japanese album "Jewelry Box" confirmed for release on June 6th (release details posted soon).
Check back to Comtrya Sugoi for more release details for "Lovey-Dovey" and album "Jewelry Box" when they are announced.
Videos below the release details…
T-ARA – "Cry Cry & Lovey-Dovey Music Video Collection" – release date April 25th 2012
Blu-ray w/English subtitles [BD] (¥5300)


DVD [DVD] (¥4800)


[BD]
1. Cry Cry & Lovey-Dovey (drama ver.)
2. Cry Cry (dance ver.)
3. Cry Cry (ballad ver.)
4. Lovey-Dovey (zombie ver.)
5. Lovey-Dovey (Tokyo ver.)
6. Watshi Tachi Aishiatta Janai with Davichi
7. Cry Cry & Lovey-Dovey (off shoot)
[DVD]
1. Cry Cry & Lovey-Dovey (drama ver.)
2. Cry Cry (dance ver.)
3. Cry Cry (ballad ver.)
4. Lovey-Dovey (zombie ver.)
5. Lovey-Dovey (Tokyo ver.)
6. Watshi Tachi Aishiatta Janai with Davichi
7. Cry Cry & Lovey-Dovey (off shoot)
(click images to enlarge)
T-ARA "Cry Cry & Love-Dovey Music Video Collection" – release April 25th 2012
T-ARA "Cry Cry & Love-Dovey Music Video Collection" – release April 25th 2012