September 16, 2012
-
toyNN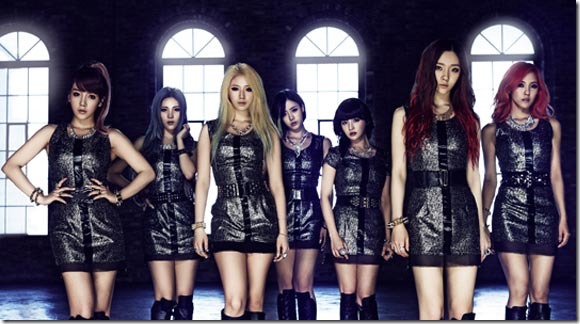 T-ARA has announced a new Japanese single "Sexy Love" which is a from their 7th Korean mini-album "MIRAGE" that just released on September 3rd. The single comes in three editions that each include a different coupling track of a Japanese version of previously released Korean song. T-ARA is hoping to re-focus on their music after being under some turmoil this summer adding new members and a controversial departure of Hwayoung on July 31st. Their new Japanese single "Sexy Love" hits stores November 14th – read on for more release details and pre-order link…
~ updated report with preview music video for "DAY BY DAY" (Japanese ver.) – here ~
T-ARA, in celebration of their 1-year anniversary of activities in Japan are releasing a greatest hits compilation album "T-ARA's Best of Best 2009-2012 ~Korean ver.~". The album comes in three editions including a Limited with DVD with 2-hour T-ARA documentary and deluxe 72-page photo book. More details are available here.
The group's summer of controversy began in the spring when their management agency, Core Contents Media (CCM), announced 2 new members would be added and any 'prideful' members not working to their full potential would be removed. The new members, who previously were trainees under CCM, are Areum added in June and Dani will join in December.
Departing the group at the end of July was member Hwayoung under a storm of accusations and Twitter messages. The controversy became so bad the group postponed events and the release of their new mini-album "MIRAGE" which had been scheduled for an August 14th release. On August 29th CCM posted an apology to fans, Hwayoung, and others disappointed by all the actions that lead to Hwayoung's contract termination. The following day they announced "MIRAGE" would release on September 3rd.
Song "Sexy Love" is the main track from mini-album "MIRAGE". T-ARA collaborated on the song with Kyu-sung Choi and Shinsa dong Tiger, who produced T-ARA's previous hit songs "BO PEEP BO PEEP", "ROLY-POLY", AND "LOVEY-DOVEY".
Their 5th Japanese single "Sexy Love" comes in three editions,
– Limited A with bonus DVD that includes music video and off-shoot footage for title track, slip-case, serial number, and trading card (1 of 8 ).
– Limited B with bonus DVD that includes music video for "DAY BY DAY" (main song from their 6th mini-album) and alternate version of music video for "Sexy Love", slip-case, serial number, and trading card (1 of 8 ).
– Regular CD-only with coupling track "DAY BY DAY" (Japanese ver.), serial number, and trading card (1 of 8 ).
Enjoy the music videos with the Korean versions of "Sexy Love" (dance ver.) and "Sexy Love" with off-shoot making of footage and Japan documentary footage – both follow below the release details.
Cover jackets and possible bonuses will be announced so come on back to Comtrya Sugoi for updates.
T-ARA – "Sexy Love" new Japanese single release date November 14th
Limited A [CD+DVD] (¥1800)


Limited B [CD+DVD] (¥1800)


[CD]
1. Sexy Love
2. Bye Bye
3. Sexy Love (off vocal)
4. Bye Bye (off vocal)
[DVD]
1. Sexy Love (music video)
2. Sexy Love (documentary video)
[CD]
1. Sexy Love
2. Hajimete no yō ni
3. Sexy Love (off vocal)
4. Hajimete no yō ni (off vocal)
[DVD]
1. DAY BY DAY (music video)
2. Sexy Love (music video alt ver.)
Regular [CD] (¥1100)


 
[CD]
1. Sexy Love
2. DAY BY DAY

(preview)
3. Sexy Love (off vocal)
4. DAY BY DAY (off vocal)

 
T-ARA – Sexy Love – Korean version
T-ARA – Sexy Love – Korean version compilation music video with off-shoot and Tokyo footage
T-ARA Official website (Korea)