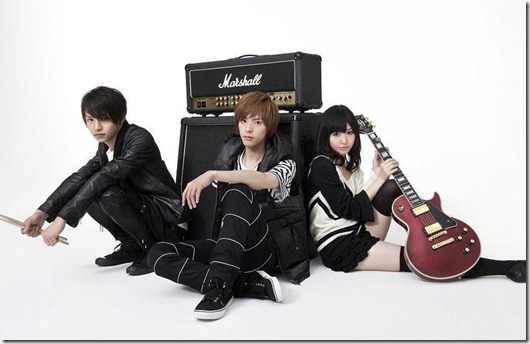 The rock group The Sketchbook has their 4th single "Colors / Birthday" set for release on May 30th. The single, like their other three, is featured as a theme song for anime SKET DANCE. Track "Colors" is featured as the 5th ending theme and "Birthday" used as special ending theme for young Bossun episode. Also just exposed is a long preview music video for "Colors" – video and release details follow,
The single comes in two editions:
– Limited with bonus DVD that includes music video and off-shoot footage for "Colors" and footage/images from The Sketchbook fan events.
– Regular CD-only
First Press versions on each edition offer bonus poster.
Anime SKET DANCE is ongoing for over a year now and centers around a trio of High School students who run a club to help other students with their problems. The anime is streamed outside of Japan on Crunchyroll – check out our Crunchyroll updates page and posts/episodes for SKET DANCE.
The Sketchbook other releases tied with SKET DANCE,
1. "Michi", 2nd opening theme, (Sept 28th 2011)
2. "Clover", 2nd ending theme (Sept 28th 2011)
3. "Message / HERO", 4th opening theme and HERO used a special ending theme (Feb 1st 2012)
The Sketchbook – "Colors / Birthday" – release date May 30th 2012
Limited [CD+DVD] (¥1890)



Regular [CD] (¥1260)


[CD]
1. Colors
2. Birthday
3. Colors (off vocal)
4. Birthday (off vocal)
[DVD]
1. Colors (music video)
2. Colors (off shoot)
3. The Sketchbook fan event footage
[CD]
1. Colors
2. Birthday
3. Colors (off vocal)
4. Birthday (off vocal)
The Sketchbook – Colors / Birthday – release date May 30th 2012