September 3, 2012
-
toyNN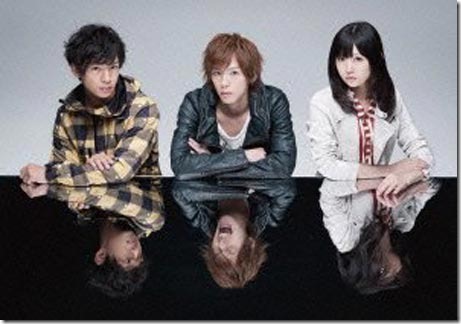 The Sketchbook is preparing their 2nd album "Re:Action" and revealed the full track list. The 10 songs are co-written by all members as they look to grow as a band. The album is scheduled for simultaneous release with their 5th single "Clear", both on September 26th. Updated release details for "Re: Action" follow.
The Sketchbook was formed around the anime SKET DANCE which may be nearing the end of its run (the band, anime, or both) though nothing officially announced. Nearly all of the band's previous songs were tied to the anime as opening theme, closing theme, or insert songs. They are now promoting their 2nd album as a reflection of how they want to grow as a band beyond their beginnings attached to the anime. As a sign of them looking to grow Lead vocalist Tada Hiroshi (center) has been selected to provide the theme song for TV Asahi series "Battle Spirits Sword Eyes" with song "Wild Card".
The release event for their 5th single "Clear" and 2nd album "Re:Action" will be held at AMAGASAKI @Edionstudio on September 16th 2pm. The band will have an acoustic mini-live, handshake, album or single signing, and colored paper gift for those attending and purchasing either release.
The Sketchbook will also hold a one-man live event to commemorate their 1-year anniversary on September 28th 6pm at Shibuya Eggman. The event is promoted as "Sketchbook ~Minna de Kaku Mirai noe~.
Anime SKET DANCE has been ongoing for about a year and a half with 73 episodes aired so far. The story centers around a trio of High School students who run a club to help other students with their problems. (click image to enlarge)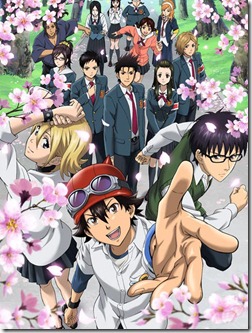 The anime is streamed outside of Japan on Crunchyroll – check our Crunchyroll updates page and posts/episodes for SKET DANCE.
Their 2nd album "Re: Action" comes in one CD-only edition with bonus member autograph card (1 of 3).
The Sketchbook – "Re: Action" – release date September 26th 2012
Regular [CD] (¥2500)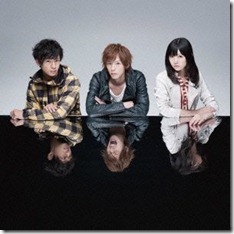 [CD]
1. Image
2. Secret
3. Loop
4. Demo Omoidasenai no Kimi no Hyojo
5. brainwash
6. Lost Word
7. Kimi no Koe o Kikeba
8. Yamanai Koe
9. Runway
10. Stories