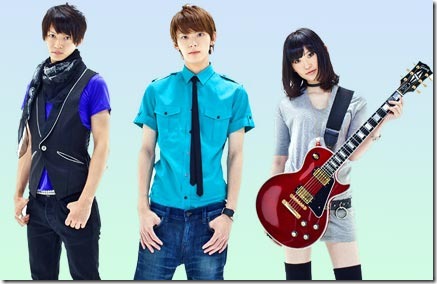 The Sketchbook has titled their 6th single "Spilt Milk / REFLECT" and revealed the track list. Song "Spilt Milt" will have tie-ups with NTV Happy Music POWER PLAY and NTV Oto Ryumon Baby Dragon's Gate. Coupling song "REFLECT" of the double-A side release has tie-in as the theme song for anime SKET DANCE OVA bundled with vol. 29 of SKET DANCE manga. Single "Spilt Milk / REFELCT" is scheduled to hit stores January 30th – read on for more details…
~ updated, preview music video ~
The band The Sketchbook was formed originally around the anime SKET DANCE which ended its run of 77 episodes September 2012. All of their previously released singles had tie-ups with the anime as opening and ending theme songs.
The 29th volume of the SKET DANCE manga due out February 2nd 2013 will bundle a DVD that includes a new OVA episode of SKET DANCE anime. Special website (link below) with countdown timer lists four special contents to be included on the bundled DVD (no details yet). Song "REFECT" will be used as the theme song for the OVA episode.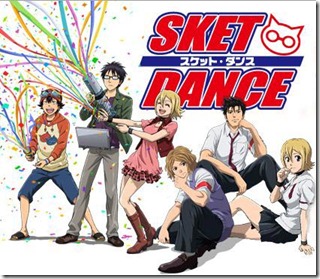 The Sketchbook announced a one-man live mini-tour "The Sketchbook 2013 LIVE ~ OverRe:Action ~" with so far 3 scheduled performances,
– Feb 1st 6:30pm Shinsaibashi VARON, Osaka
– Feb 3rd 4:30pm Apollo Theater, Nagoya
– Feb 9th 4:30pm Shibuya WWW, Tokyo
In-store mini-live and sign/handshake launch events for the new single have been announced (fans purchasing the single at the selected stores),
– Jan 29th 2013 6:00pm Cartier shop Kashiwa 5 Shinseido, Chiba
– Feb 10th 2013 3:00pm TSUTAYA, Tsudanuma Morishia Center Court, Chiba
– Feb 16th 2013 12:00pm Tower Records Shinjuku, Tokyo
Double-A side single "Spilt Milk / REFELCT" comes on two editions,
– Limited with DVD that includes music video and making-of footage for "Spilt Milk". First Press version adds bonus poster.
– Regular CD-only. First Press version adds bonus poster.
Cover jackets will be announced so come back to Comtrya Sugoi for updates.
The Sketchbook "Spilt Milk / REFLECT" – release date January 30th 2013
Limited [CD+DVD] (¥1890)


Regular [CD] (¥1260)


[CD]
1. Spilt Milk
2. REFLECT
3. Spilt Milk (off vocal)
4. REFLECT (off vocal) 
[DVD]
1. Spilt Milk (music video)
2. Spilt Milk (making-of footage)
[CD]
1. Spilt Milk
2. REFLECT
3. Spilt Milk (off vocal)
4. REFLECT (off vocal)
SKET DANCE 29th manga volume DVD