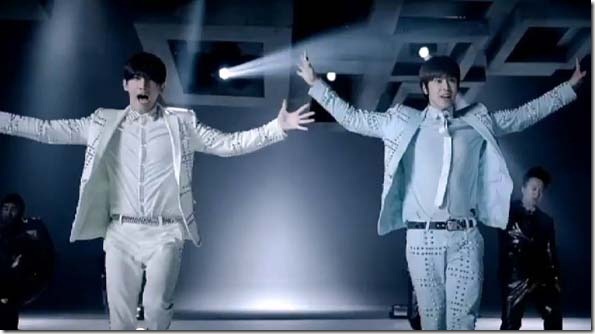 Tohoshinki (TVXQ) has exposed a preview of the music video for their new single "ANDROID". Previously the jacket covers and other details were updated on the group's 2nd single release of 2012. The new single is set to hit stores on July 11th – music video follows..
Tohoshinki has announced a live concert DVD/BD of their recent Japan tour "Tohoshinki LIVE TOUR 2012 ~TONE~", it will be available on July 25th.
The single "ANDROID" is offered in two editions:
– Limited with bonus DVD that includes music video and making-of off shoot footage for the title track. Jacket-sized card (1 of 6).
– Regular CD-only with bonus remix track of "ANDROID". First Press version adds CD-Extra format digital book of images (PC), a 12pg lyrics booklet and jacket-sized card (1 of 6).
Preview video via the avex trax official YouTube channel follows below the release information….
Tohoshinki – ANDROID – release date July 11th 2012
Limited [CD+DVD] (¥1890)


Regular [CD] (¥1050)


[CD]
1. ANDROID
2. BLINK 
3. ANDROID (off vocal)
4. BLINK (off vocal)
[DVD]
1. ANDROID (music video)
2. ANDROID (off shoot)
[CD]
1. ANDROID
2. BLINK
3. ANDROID ~modest gothic remix~
4. ANDROID (off vocal)
5. BLINK (off vocal)
Tohoshinki (TVXQ) – ANDROID – new single release date July 11th 2012