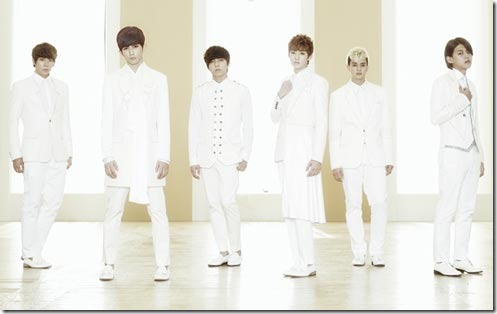 U-KISS has updated the release details for their new Japanese single "Distance…" – cover jackets and preview music video revealed. The new single described as a ballad appropriate for the coming winter holidays comes on two editions and is scheduled it hit stores on December 12th. Updated release details, video message from U-KISS, and preview music video for "Distance…" follow.
U-KISS is celebrating their 1st Anniversary Japan debut & launch of 5th Japanese single "Distance…" with events in Tokyo and Osaka. The First Press versions of the new single contain a lottery ticket for these events that include interview, mini-live, and autograph session. U-KISS fanclub members can submit possible questions for the group to answer (link at bottom). Bring your event ticket to one of the two events,
– Dec. 14th 5:00pm Grand Stage Square Plaza 2f Lazona Kawasaki, Kanagawa
– Dec. 15th 4:00pm (10:00am priority area) Chisato Serushi, Osaka
U-KISS's 5th Japanese single "Distance…" is offered in two editions,
– Limited with bonus DVD that includes music video and off-shoot footage for title track plus special event lottery ticket. First Press version adds bonus photo (1 of 7).
– Regular CD-only with bonus CD track of a live performance of song "One of You" during their Budokan concert in September. First Press version add bonus photo and event lottery ticket.
Enjoy the U-KISS group message video (previously released) and the new preview music video for "Distance…" after the release details.
U-KISS – "Distance…" – release date December 12th 2012
Limited [CD+DVD] (¥1890)


Regular [CD] (¥1050)


[CD]
1. Distance…
(preview)
2. Love to Go
(preview)
3. Distance… (off vocal)
4. Love to Go (off vocal)
[DVD]
1. Distance… (music video)
2. Distance… (off shoot)
[CD]
1. Distance…
2. Love to Go
3. One of You -Live ver.- (Budokan 2012.09)
4. Distance… (off vocal)
5. Love to Go (off vocal)