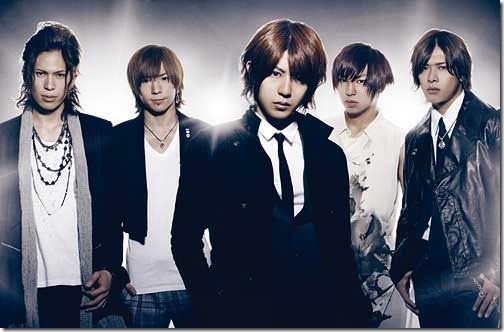 Visual Kei band ViViD has their first album "INFINITY" coming up for release on June 27th. The album features their five previously released singles along with new songs for a total of 12 tracks. It comes in two editions and for those who order before June 20th there will be a special luxury gift drawing. Complete release details follow.
ViViD's previously released singles include their 2nd single "BLUE" which was featured as opening theme for anime BLEACH and "REAL" their 5th single released May 16th which is featured as opening theme for anime Mobile Suit Gundam AGE (release details).
"INFINITY" is offered in two editions:
– Limited with bonus DVD, special packaging. 
– Regular CD-only with bonus track.
Special lottery drawing for luxury gift for those who purchase/order either edition before June 20th.
First Press versions of both editions offer a bonus sticker (1 of 5) and event lottery ticket. Additionally on the Regular edition a trading card (1 of 6).
ViViD – "INFINITY" – release date June 27th 2012
Limited [CD+DVD] (¥3400)


Regular [CD] (¥3060)


[CD]
1. live your life
2. BLUE
3. REAL
4. memories in white
5. calling
6. Kakera
7. Natsukaze ~endless love~
8. explosion
9. [Yume] ~Mugen no Kanata~
10. RIDE on time
11. FAKE
12. message
[DVD]
1. ViViD x Shimada Shuhei
2. ViViD no Mirai wa Ikaga ni 2012 (documentary footage)
3. Album recording off shoot footage
[CD]
1. live your life
2. BLUE
3. REAL
4. memories in white
5. calling
6. Kakera
7. Natsukaze ~endless love~
8. explosion
9. [Yume] ~Mugen no Kanata~
10. RIDE on time
11. FAKE
12. message
13. EVER