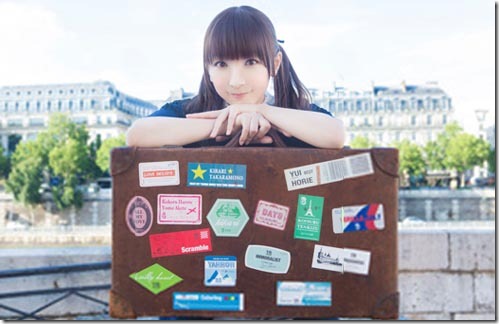 ~ Cover jackets updated ~
Yui Horie has updated the release information for compilation album "BEST ALBUM" that includes 15 of her best singles. Cover jackets, promotional photo, bonuses, and First Press version bonuses have been exposed! The Limited edition which includes a bonus second CD with 15 more songs now adds additional bonuses including a sticker (1 of 15) as shown in the promotional photo above. First Press on both editions adds several bonuses including special event ticket. The album's two editions are scheduled to hit stores September 20th – read on for more updated release details.
Yui Horie is a popular and prolific seiyuu (voice actress) and singer perhaps only topped by Nana Mizuki. Her notable roles go back to Love Hina (Naru, 2000) and Fruits Basket (Tohru, 2001) to Ano Natsu de Matteru (Emika, 2012) and Nisemonogatari (Tsubasa, 2012).
Most of her single releases have tie-ins with anime or games as theme and insert songs in which she is also voicing a main character. Tie-ins are noted below in the track list on her new "BEST ALBUM".
The "BEST ALBUM" includes singles going back to 2001 and up to her newest single "Natsu no Yakusoku" which is featured as the ending theme for the second season of anime Dog Days. That single released on July 25th (more release details are here).
Yui Horie's "BEST ALBUM" comes in two editions that share the same CD-track list,
– Limited that comes with a bonus second CD with 15 additional tracks. Additional bonuses include outer box packaging for both CDs, additional jacket for CD2, photo booklet, booklet, sticker (1 of 15) same as single title design as shown on trunk.
– Regular CD-only.
First Press versions on each adds ticket for special live event & additional bonus depending on where purchased – Poster, Photo, Clear File, or Mouse Pad (CD Japan).
The special live events application with First Press versions, location on card varies by where purchased, send in by September 10th,
– September 23rd 2pm Shinjuku KDX Hall B, Tokyo
– September 23rd 4pm Shinjuku KDX Hall B, Tokyo
– September 29th 11am Toranoana Nagoya, Aichi
– September 29th 4pm Gamers Shop Nanba, Osaka
– September 30th 12pm YMCA International Cultural Center Hiroshima
– September 30th 4pm Yoyogi Animation Gakuin Fukuoka
– October 6th 3pm Sendai (location to be announced)
Yui Horie – BEST ALBUM – release date September 20th 2012
Limited [CD+CD] (¥3500)


Regular [CD] (¥2500)


[CD]
1. Love Destiny (Sister Princess OP)
2. Kirari☆Takaramono (Love Hina Again OP)
3. ALL MY LOVE (Ground Defense Force! OP)
4. Kokoro Harete Yoru mo Akete (Jubei-chan OP)
5. Scramble (School Rumble OP)
6. Hikari (Inukami! OP)
7. Days (Nagasarete Airantou OP)
8. Koisuru Tenkizu (Nagasarete Airantou (ED2)
9. Vanilla Salt (Toradora! ED1)
10. silky heart (Toradora! OP2)
11. YAHHO!! (Kanamemo ED)
12. Immoralist (Dragon Crisis! OP1)
13. PRESENTER (Dog Days ED1)
14. Coloring (Listen to Me Girls I'm Your Father ED)
15. Natsu no Yakusoku (Dog Days ED2)
[CD2]
1. Sakura
2. Kono Yubitomare
3. Tsubasa (Sister Princess ED)
4. Okiniiri no Jitensha
5. Romantic Flight
6. IT's MY STYLE (Earth Defender ED)
7. Angel Koi o Shita
8. A Girl in Love
9. Egao no Rensa
10. Mushroom March
11. Say cheeze! (Nagasarete Airantou ED1)
12. Zutto
13. JET!!
14. CHILDISH♡LOVE♡WORLD
15. HAPPY SNOW
[CD]
1. Love Destiny (Sister Princess OP)
2. Kirari☆Takaramono (Love Hina Again OP)
3. ALL MY LOVE (Ground Defense Force! OP)
4. Kokoro Harete Yoru mo Akete (Jubei-chan OP)
5. Scramble (School Rumble OP)
6. Hikari (Inukami! OP)
7. Days (Nagasarete Airantou OP)
8. Koisuru Tenkizu (Nagasarete Airantou (ED2)
9. Vanilla Salt (Toradora! ED1)
10. silky heart (Toradora! OP2)
11. YAHHO!! (Kanamemo ED)
12. Immoralist (Dragon Crisis! OP1)
13. PRESENTER (Dog Days ED1)
14. Coloring (Listen to Me Girls I'm Your Father ED)
15. Natsu no Yakusoku (Dog Days ED2)