September 20, 2013
-
toyNN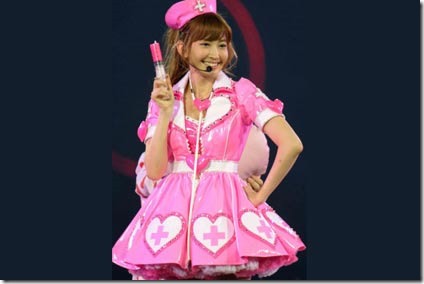 AKB48 has revealed the title and more details for 33rd single "Heart Electric" (ハート・エレキ). The single features Kojima Haruna as center position and comes on four team editions plus a theater version with each of the team Limited editions adding a hand-shake event ticket. Single "Heart Electric" (or Heart Ereki) is scheduled to hit stores October 30th 2013 – read on for more details…
AKB48 also just held their 4th rock-paper-scissors tournament (Jan-ken-taikai) to select the center and 16 members for their 34th single (untitled). Held September 18th 2013 at Nippon Budokan, Matsui Jurina  (AKB48 & SKE48) threw paper 7 times to be crowned the winner and center position for the 34th single due out December 11th 2013 (more details coming).
Most recently AKB48 release 32nd single "Koisuru Fortune Cookie" tied to their General Election on August 21st 2013 (more details). The single featured the election winner Sashihara Rino for her first time as center of an AKB48 single. The single was also the final participation for graduating senbatsu and founding team A members Itano Tomomi and Shinoda Mariko plus founding team K member Akimoto Sayaka.
Members featured on new single "Heart Electric" (Heart Ereki) are 16 leaders and popular members (as selected by management) of each of the AKB member groups: AKB48, SKE48, NMB48, and HKT48. It's the first time for Kojima Haruna as center and first time in the senbatsu for younger members Kawaei Rina and Iriyama Anna.
Team A: Iriyama Anna, Takahashi Minami, Kawaei Rina, Yokoyama Yui, Watanabe Mayu
Team K: Oshima Yuko
Team B: Kashiwagi Yuki, Kojima Haruna, Shimazaki Haruka
Team 4: Minegishi Minami 
Team S: Matsui Jurina
Team E: Matsui Rena
Team N: Yamamoto Sayaka, Watanabe Miyuki
Team H: Ota Aika, Sashihara Rino 
AKB48's 33rd single "Heart Electric" (Heart Ereki) comes on 4 team editions each with a Limited that adds a hand-shake event ticket. The Limited and Regular team versions are identical except for the event ticket and jacket covers.
Each team edition includes coupling track and music video featuring team members. Most stores add a bonus photo (varies) while supplies last. The Theater edition is CD-only with a mixed track list and available at theater and other AKB stores.
Full track list, jacket covers and more details will be updated when announced.
AKB48 – Heart Electric – release date October 30th 2013
Limited A [CD+DVD] (¥1600)


Regular A [CD+DVD] (¥1600)


[CD]
1. Heart Ereki
2. undecided
3. undecided (team A)
4. Heart Ereki (off vocal)
5. undecided (off vocal)
6. undecided (team A)(off vocal)
[DVD]
1. Heart Ereki (music video)
2. undecided (music video)
3. undecided (team A) (music video)
[CD]
1. Heart Ereki
2. undecided
3. undecided (team A)
4. Heart Ereki (off vocal)
5. undecided (off vocal)
6. undecided (team A)(off vocal)
[DVD]
1. Heart Ereki (music video)
2. undecided (music video)
3. undecided (team A) (music video)
Limited K [CD+DVD] (¥1600)


Regular K [CD+DVD] (¥1600)


[CD]
1. Heart Ereki
2. undecided
3. undecided (team K)
4. Heart Ereki (off vocal)
5. undecided (off vocal)
6. undecided (team K)(off vocal)
[DVD]
1. Heart Ereki (music video)
2. undecided (music video)
3. undecided (team K) (music video)
[CD]
1. Heart Ereki
2. undecided
3. undecided (team K)
4. Heart Ereki (off vocal)
5. undecided (off vocal)
6. undecided (team K)(off vocal)
[DVD]
1. Heart Ereki (music video)
2. undecided (music video)
3. undecided (team K) (music video)
Limited B [CD+DVD] (¥1600)


Regular B [CD+DVD] (¥1600)


[CD]
1. Heart Ereki
2. undecided
3. undecided (team B)
4. Heart Ereki (off vocal)
5. undecided (off vocal)
6. undecided (team B)(off vocal)
[DVD]
1. Heart Ereki (music video)
2. undecided (music video)
3. undecided (team B) (music video)
[CD]
1. Heart Ereki
2. undecided
3. undecided (team B)
4. Heart Ereki (off vocal)
5. undecided (off vocal)
6. undecided (team B)(off vocal)
[DVD]
1. Heart Ereki (music video)
2. undecided (music video)
3. undecided (team B) (music video)
Limited Team4 [CD+DVD] (¥1600)


Regular Team4 [CD+DVD] (¥1600)


[CD]
1. Heart Ereki
2. undecided
3. undecided (team 4)
4. Heart Ereki (off vocal)
5. undecided (off vocal)
6. undecided (team 4)(off vocal)
[DVD]
1. Heart Ereki (music video)
2. undecided (music video)
3. undecided (team 4) (music video)
[CD]
1. Heart Ereki
2. undecided
3. undecided (team 4)
4. Heart Ereki (off vocal)
5. undecided (off vocal)
6. undecided (team 4)(off vocal)
[DVD]
1. Heart Ereki (music video)
2. undecided (music video)
3. undecided (team 4) (music video)