December 21, 2013
-
toyNN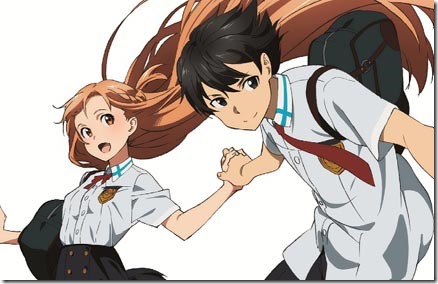 Aoi Eir updated the release details for her 6th single Niji no Oto (虹の音) with tie-up as the theme song for special Sword Art Online EXTRA EDITION. The original episode, simulcast worldwide December 31st 2013/January 1st 2014, has a new English subtitled trailer revealed. Single Niji no Oto comes on a Limited Pressing edition hitting stores on January 1st 2014. Updated release details and anime's subtitled trailer video follow.
Aoi Eir (藍井エイル) also has her 2nd album AUBE upcoming for release on January 29th 2014. The album is planned to include three singles, new songs, and more (additional details coming). Most recently Aoi Eir released her 5th single Sirius with tie-up as opening theme for anime TV series KILL la KILL. The single also includes coupling track Kuroi Uta used as the theme song for PS3 game Drag-On Dragoon 3. Single Sirius hit stores November 13th 2013 (more details).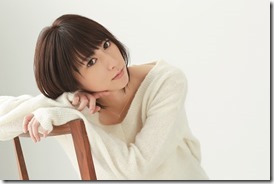 6th single Niji no Oto continues her collaboration with popular anime TV series Sword Art Online – 3rd single INNOCENCE (2012.11.21) is featured as the anime's second opening theme (more details).
Anime Sword Art Online (SAO) is adapted from light novels by Reki Kawahara who also provided the novels for Accel World. The first season followed the story of ordinary game players who have become trapped inside an online virtual reality game. Dying in the game means death in real-life also so they all must fight to end the game and free themselves. After defeating the game in season one, season two continued in a new online game as Kirito used his special skills to free imprisoned Asuna.
Both seasons of SAO are available at online streaming provided Crunchyroll. The special Sword Art Online EXTRA EDITION episode will be available January 1st 2014 at 12AM JST and online at Crunchyroll starting December 31st 2013 8:00AM PST for North and South America, England, and other English-speaking countries. Check our Crunchyroll updates page or hit the link for Sword Art Online for episode links and related stories.
Aoi Eir's 6th single Niji no Oto comes on one Limited Pressing edition available through March 2014. The track list includes a live performance of 3rd single INNOCENCE (OP2 SAO) and a cover of Yume Sekai (Haruka Tomatsu, ED2 SAO).
– Limited Pressing with illustrated jacket cover and DVD including four live songs captured at Aoi Eir's live Special Live 2013 -Starlight Reunion- held October 28th 2013 at Shibuya Public Hall. Comes with deluxe packaging, photo card, and application postcard.
The application postcard for awards lottery,
– 100 persons special mini-live release event for Niji no Oto planned for February 3rd 2014 (7:00pm, Tokyo).
– 100 persons autographed Niji no Oto x SAO poster.
Watch the subtitled trailer for the special SAO EXTRA EDITION episode after the release details.
Aoi Eir – Niji no Oto – release date January 1st 2014
Limited Pressing [CD+DVD] (¥1800)

[CD]
1. Niji no Oto
lyrics: Aoi Eir, composer: Shigenaga Ryosuke, arrangment: Arai Koki
 
2. Yume Sekai
3. INNOCENCE (live, Shibuya Public Hall)
3. Niji no Oto (TV-size)
4. Niji no Oto (off vocal)
[DVD]
Special Live 2013 -Starlight Reunion- 2013.10.28
– Avalon Blue
– AURORA
– Sirius
– Ei! Ei! Ruuuu!!!!!!
Sword Art Online (USA)