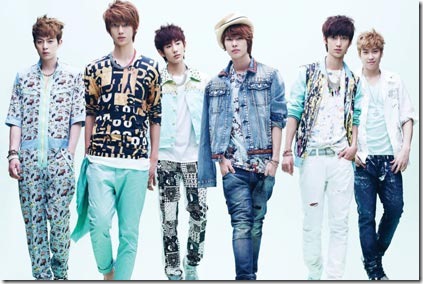 BOYFRIEND has recently announced their 3rd Japanese single "Hitomi no Melody" which will be featured as the next ending theme for TV anime series Detective Conan (Case Closed). It marks the first time in 78 theme songs for the TV series that its theme song will be provided by a Korean group. The new single "Hitmoi no Melody" is available on three editions and is scheduled to be in stores March 27th 2013. More release details follow…
~ updated details, preview video ~
BOYFRIEND's new single "Hitomi no Melody" described as a love ballad expressing pure feelings that won't be shaken. It will begin airing as the Detective Conan ending theme in February 2013. The single's coupling track "TO MOON" has tie-in with NTV Tokyo Etoile Conservatory show ending theme for January and February 2013.
Six-member Korean boy group, BOYFRIEND formed in 2011 and in Korean they have so far released three singles, "Boyfriend", "Don't Touch My Girl", and "I'll Be There", mini-album "Love Style", and album "Janus". In Japan in 2012 they released two singles "Be My Shine" and most recently "Kimi to Dance Dance Dance | MY LADY – Fuyu no Koibito" on November 28th 2012.
BOYFRIEND is repackaging their Korean album "Janus" and adding two new songs for release in Japan as "I YAH". The album will include a 100 page photo booklet with lyrics and a photo card. The import album will be available in Japan January 28th 2013 – release details included below.
Anime Detective Conan (Case Closed) is adapted from manga by Aoyama Gosho and since debuting in 1996 has run over 685 episodes and 17 movies. The anime airs Saturdays 6:00pm on Nippon TV.
Single "Hitomi no Melody" comes on three editions,
– Limited with DVD that includes music video and making-of footage for title track. Includes trading card (1 of 7).
– Anime CD-only with Detective Conan themed cover, track list includes TV-size version and drops the coupling track. Includes Detective Conan trading card (1 of 2) and event participation ticket.
– Regular CD-only, includes trading card (1 of 7).
Cover jackets and additional details will be announced so check back to Comtrya Sugoi for updates.
BOYFRIEND "Hitomi no Melody" – release date March 27th 2013
Limited A [CD+DVD] (¥1890)


Anime Ed. [CD] (¥1000)


[CD]
1. Hitomi no Melody
2. TO MOON
3. Hitomi no Melody (off vocal)
4. TO Melody (off vocal)
[DVD]
1. Hitomi no Melody (music video)
2. Hitomi no Melody (off shoot)
[CD]
1. Hitomi no Melody
2. Hitomi no Melody (TV-size)
3. Hitomi no Melody (off vocal)
Regular [CD] (¥1000)


Album "I YAH" (repackaged) [CD] (¥1700)


[CD]
1. Hitomi no Melody
2. TO MOON
3. Hitomi no Melody (off vocal)
4. TO Melody (off vocal)
[CD]
1. I YAH
2. Janus
3. Sono basho
4. Good Night
5. Excuse me
6. Tripping (Hyun Seong solo)
7. Mystery
8. Go Back
9. Stop It
10. Listen (Dong Hyun solo)
11. My Dear (Jeong Min solo)
12. Soulmate
Detective Conan Official website
BOYFRIEND Official website (Korea)