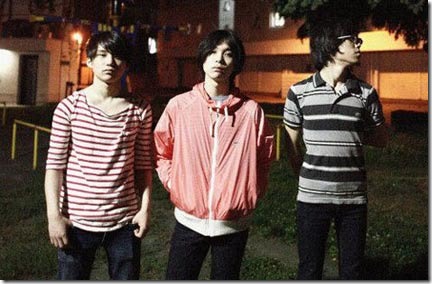 Galileo Galilei has officially announced their 7th single "Circle Game" which will be featured as the opening theme for anime movie Anohana: The Flower We Saw That Day and the anime TV series' re-broadcast. The band provided the original Anohana anime's opening theme with their 4th single "Aoi Shiori" (2011). Their first single in over a year and a half comes on two editions that hit stores August 21st 2013. Read on for more details.
Most recently the band released mini-album "Baby, It's Cold Outside" (2012.10.31) and announced at that time the departure of members Fumito Iwai (guitar) and Kazumasa Noguchi (programmer). Leaving the band with original core members Yuuki Ozaki, Hitoshi Sakou, and Kazuki Ozaki. Galileo Galilei's most recent single "Asu e" released back on December 7th 2011 and was featured as the first opening theme to anime Mobile Suit Gundam AGE (more details).
Anime TV series Anohana: The Flower We Saw That Day is an original story form A-1 Pictures developed for the Fuji TV Noitamina anime broadcast block. It originally aired its 11 episodes 2011 April – June. The anime TV series will be re-broadcast this summer in the Noitamina time-slot beginning July 11th 2013. As part of the re-broadcast the anime will have a new opening animation featuring new song "Circle Game".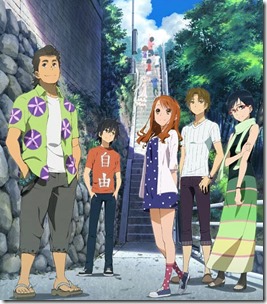 Anime Anohana follows a group of young friends who drifted apart due to a significant tragedy and are now trying to re-connect in high school. The new Anohana movie is an alternate telling of the original story from the view point of character Menma. The movie is set to debut in theaters across Japan August 31st 2013. More details at the anime's official website (link below).
New single "Circle Game" comes on two editions,
– Limited Pressing (until 2013.11.11) anime themed with illustrated jacket and triple cover sleeve case. CD includes new song and "Aoi Shiori" featured as the OP theme for original anime broadcast. Included DVD has the textless opening animation for the anime's re-broadcast and the original opening animation (textless).
– Regular CD-only with 3 songs planned. Details on the 2 coupling tracks not yet official and will be updated when announced.
Watch the CM spot for the Anohana re-broadcast and movie and a trailer for the Anohana movie below the release details.
Galileo Galilei "Circle Game" – release date August 21st 2013
Limited Pressing [CD+DVD] (¥1600)


Regular [CD] (¥1223)


[CD]
1. Circle Game
2. Aoi Shiori
3. Circle Game (TV-size)
4. Aoi Shiori (TV-size)
[DVD]
1. OP animation ~ Circle Game ver. ~ (textless)
2. OP animation ~ Aoi Shiori ver. ~ (textless)
[CD]
1. Circle Game
2. Electroland
3. Jonathan