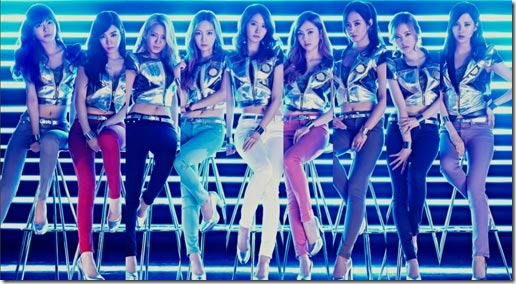 GIRLS' GENERATION (SNSD) has announced their 3rd Japanese album planned to include their singles GALAXY SUPERNOVA and LOVE & GIRLS, new song My oh My, plus more for 12 total tracks. The new album isn't yet titled but planned for four editions including a Limited with Blu-ray and loads of bonuses. GIRLS' GENERATION new Japanese album is scheduled for release on December 11th 2013 – read on for more details…
~ PV revealed for new song My oh My ~
Girls' Generation most recently released their 8th Japanese single GALAXY SUPERNOVA with tie-up as TVCM theme song for Samantha Thavasa jeans (more details). Single GALAXY SUPERNOVA hits stores September 18th 2013 and fans pushed it to #3 on the weekly Oricon charts.
The popular Korean group released their 7th Japanese single LOVE & GIRLS on June 19th 2013 (more details). Before that they released their 2nd Japanese album GIRLS GENERATION II ~Girls & Peace~ back on November 28th 2012 (more details).
Girls' Generation 3rd Japanese album is planned for four editions (details subject to change),
– Limited A with Blu-ray and goods. Blu-ray includes music videos and making-of off-shoot footage. Bonus goods include 9 tin badges and 9 posters each featuring a member of Girls Generation. Also includes 40-page deluxe photo booklet and deluxe packaging.
– Limited B with Blu-ray that includes music videos. Digipack packaging.
– Limited C with DVD (contents similar to Limited B). Digipack packaging.
– Regular CD-only.
Full track list, jacket covers, and additional possible bonuses will be announced, come back to Comtrya Sugoi for updates. Watch the music videos for GALAXY SUPERNOVA (dance ver.), LOVE & GIRLS, and BEEP BEEP all below the release details.
Girls' Generation – 3rd Japanese album – release date December 11th 2013
Limited A [CD+BD+Goods] (¥7500)

Limited B [CD+BD] (¥4990)

[CD]
1. GALAXY SUPERNOVA
2. LOVE & GIRLS
3. My oh My
4. – 12. undecided
[BD]
1. BEEP BEEP
2. LOVE & GIRLS
3. GALAXY SUPERNOVA
4. My oh My
5. GALAXY SUPERNOVA (off shoot)
6. My oh My (off shoot)
7. 3rd album jacket cover photo shoot
[CD]
1. GALAXY SUPERNOVA
2. LOVE & GIRLS
3. My oh My
4. – 12. undecided
[BD]
1. BEEP BEEP
2. LOVE & GIRLS
3. LOVE & GIRLS (dance ver.)
4. GALAXY SUPERNOVA
5. GALAXY SUPERNOVA (dance ver.)
6. My oh My
Limited C [CD+DVD] (¥3990)

Regular [CD] (¥3060)

[CD]
1. GALAXY SUPERNOVA
2. LOVE & GIRLS
3. My oh My
4. – 12. undecided
[DVD]
1. BEEP BEEP
2. LOVE & GIRLS
3. LOVE & GIRLS (dance ver.)
4. GALAXY SUPERNOVA
5. GALAXY SUPERNOVA (dance ver.)
6. My oh My
[CD]
1. GALAXY SUPERNOVA
2. LOVE & GIRLS
3. My oh My
4. – 12. undecided
Girls Generation official Japanese website
Girls Generation at Universal Music Japan