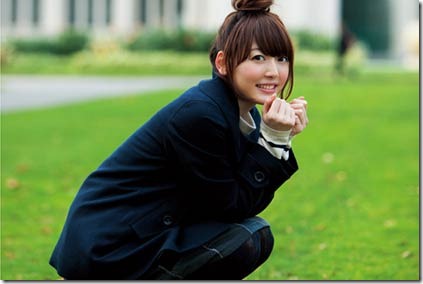 Kana Hanazawa recently announced her first full-length album "claire" which includes her four solo singles, new songs, and more for a total of 14 tracks. The album is available on one CD-only edition and scheduled to be in stores February 20th 2013. Read on for more release details.
Singer and voice actress (and now song writer too) Kana Hanazawa (23) just released her 4th solo single "Silent Snow" on January 16th 2013 which charted 8th on the Oricon weekly charts. She has another upcoming release of a character tie-ed single "Bamboo Rendez-Vous" that will be featured as the ending theme for anime Polar Bear Café (Shirokuma Café). Kana Hanazawa will perform in the character voice Mei Mei which she voices in the anime. More details.
Her 3rd solo single "happy endings" released October 24th 2012 and was featured as the ending theme for anime Blast of Tempest (Zetsuen no Tempest: The Civilization Blaster). Hanazawa is also voicing character Aika Fuwa in the anime that continues this winter season. More details available here.
Her new album "claire" has her four previously released singles and new songs with Kana Hanazawa providing the lyrics for track "Oyasumi mata ashita". Her first try at song writing.
To celebrate the release of her four single "Silent Snow", Kana Hanazawa will hold a pair of upcoming live events. Included with the First Press versions is a lottery application for priority tickets,
– March 17th 6:00pm NHK Hall, Osaka
– March 20th 6:00pm Shibuya Public Hall, Tokyo
Album "claire" comes on one Regular edition. First Press version adds bonus photo booklet 48-page, special outer sleeve packaging, and application card for special lottery gifts,
– Invitation (800 persons) June 8th Toshima Auditorium, Tokyo – special live event.
– Invitation (420 persons) June 9th Eastern Ken Hall, Nagoya – special live event.
– Headphones similar to cover jacket (3 persons) includes personal message card from Kana Hanazawa.
– Poster set (500 persons) 4 from her previous released singles.
Kana Hanazawa – "claire" – release date February 20th 2013
Regular [CD] (¥3150)


[CD]
1. Aoi tori
2. Just The Way You Are
3. Hatsukoi Note 
4. Library de koi wo shite!
5. Hosizora☆Destination
6. Staccato
7. melody
8. Ring a Bell
9. Silent Snow
10. Signal wa Koigokoro
11. Atarashi sekai no uta
12. Nemuru sakana
13. Oyasumi mata ashita
14. happy endings