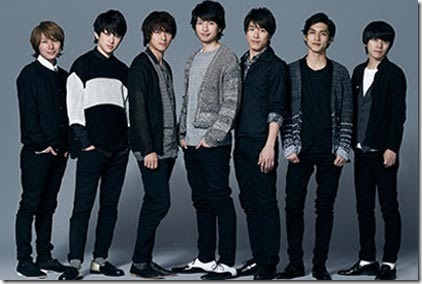 KANJANI8 has announced their 2nd single of 2013 "Namida no Kotae" with the title track featured as theme song for movie "100 Kai Naku Koto" (To Cry a 100 Times). The movie which hits theaters June 22nd 2013, stars member Tadayoshi Okura and actress Mirei Kiritani. Single "Namida no Kotae" comes on three editions and hits stores June 12th 2013 – read on for more details and newest trailer for the movie featuring the theme song.
KANJANI8 has recently released their 21st single "Hesomagari / Kokonishikanai Keshiki" – song "Hesomagari" is featured as the theme song for TV drama series Otenki Oneesan starring member Tadayoshi Okura and the other title song "Kokonishikanai Keshiki" has tie-in as theme song for movie Kencho Omotenashi Ka starring member Ryo Nishikido. The single hit stores April 24th 2013 and fans gave the popular vocal group their 18th #1 single.
Their 22nd single "Namida no Kotae" comes on three editions and the title track is written and composed by group SEKAI NO OWARI,
– Limited A with DVD that includes the full music video for title track, 24pg booklet/special jacket, and deluxe packaging.
– Limited B with DVD that includes version of music video and making-of footage. Deluxe packaging.
– Regular CD-only with extra coupling song. First Press version adds a bonus remix track and deluxe packaging.
Details are all here – enjoy their 2nd single of 2013 and the newest trailer for movie "100 Kai Naku Koto"
KANJANI8 "Namida no Kotae" – release date June 12th 2013
Limited A [CD+DVD] (¥1470)


Limited B [CD+DVD] (¥1470)


[CD]
1. Namida no Kotae
2. Royal Milk Story
[DVD]
1. Namida no Kotae (music video, 8min.)
[CD]
1. Namida no Kotae
2. Royal Milk Story
[DVD]
1. Namida no Kotae (close-up ver., 3min )
2. Namida no Kotae (off shoot, 16min)
Regular [CD] (¥1000)


 
[CD]
1. Namida no Kotae
2. Royal Milk Story
3. Banso
4. 8th Anniversary Singles remix (bonus)
 
100 Kai Naku Koto Official website
KANJANI8 Official website (Teichiku records)