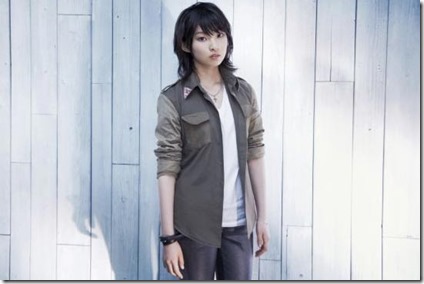 Leo Ieiri's new digital single "Kimi ni Todoke" is about to release and the music video and a message from Leo Ieri have been revealed. The song has tie-in since April as the theme for commercial campaign for the School Corporation and Professional Capital Medical school's Osaka-Isen and Nagoya-Isen. New song "Kimi ni Todoke" starts digital delivery July 24th 2013 – more details, music video, and video message follow.
Singer/song writer Leo Ieiri (18, Best Newcomer 2012) recently release her 4th single "Message" with coupling track "Wake you up" on May 22nd 2013 (more details). The title track is featured as the theme song for TBS TV drama "Kakusho ~ Keishico Sousa 3" and coupling track "Wake you up" has new tie-in for July as TVCM song for Sadamatsu festaria "Wish upon a Star" diamond jewelry.
Leo Ieiri will hit several of the upcoming summer festivals and events,
– July 20th "JOIN ALIVE 2013" Iwamizawa Park Hokkaido
– July 28th "FM802 MEET THE WORLD BEAT 2013" Banpakukinenkoen Maple River Lawn, Osaka
– August 3rd "ROCK IN JAPAN FES. 2013" Hitachi National Seaside Park, Ibaraki (sold out)
– August 6th "TEENS STYLE AWARD 2013 OSAKA" Hatch Namba
– August 18th "25th Anniversary J-WAVE 2000+13" Yoyogi National Stadium, Tokyo
Also announced is the Leo Ieiri 2nd one-man Tour ~ Kimi ni Todoke ~ scheduled for 4 performances this Fall. More details at her official website (links below),
– November 15th 6:00pm Diamond Hall Aichi
– November 23rd 5:00pm Zepp Fukuoka
– November 28th 6:00pm Zepp DiverCity
– November 29th 6:00pm Zepp Namba
Leo Ieiri's new digital single "Kimi ni Todoke" begins digital distribution July 24th 2013.

Digital download in Japan via Rekochoku Chaku-Uta and from July 24th to August 4th downloaders can enter a lottery for 100 people (50 pairs) for the Leo Ieiri "Summer Meeting". The release event will be a mini-live and talk somewhere in Tokyo August 25th.
Watch the music video for "Kimi ni Todoke", message video from Leo Ieiri, and the 15sec TVCM spot for Osaka-Isen & Nagoya-Isen medical professional schools below. 
Leo Ieiri Official website (JVC music)