February 18, 2013
-
Latest Crunchyroll Anime Videos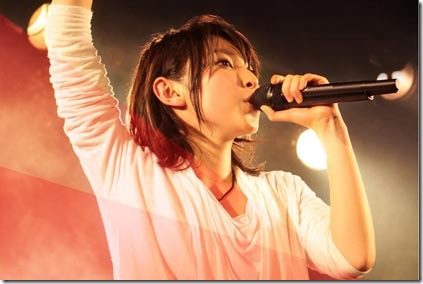 Leo Ieiri is getting ready to release "LEO ~ 1st Live Tour ~" that captures her performance at Umeda Club Quattro in Osaka and additional footage from various performances during her first solo tour in January 2013. Leo Ieiri is also celebrating several newcomer awards recognizing the breakout year she had in 2012. Her first live release "LEO ~ 1st Live Tour ~" comes on either Blu-ray or DVD and is scheduled to hit stores March 27th 2013 – read on for more details.
Leo Ieiri's debut single "SABRINA" released February 15th 2012 with tie-in as ending theme for ongoing anime Toriko. Her second single "Shine" came out May 16th and her most recent single "Bless You" released September 12th and hit #8 on the weekly Oricon singles chart.
Leo Ieiri (18) most recently released her first album "LEO" that featured her three singles and more for 13 total tracks. The album released October 24th 2012 and fans propelled it to #2 on the Oricon weekly album charts.
For her strong debut in 2012 Leo Ieiri was awarded the "Best Newcomer" at the 54th Japan Record association awards. She also was recognized on several digital services with "Best New Artist of 2012" on Japan iTunes, LISMO Award 2012 Newcomer of the year, most often listen "Shine", and Recochoku Chaku-Uta "Newcomer of the Year"
She first live release "LEO ~ 1st Live Tour ~" comes on either region-free Blu-ray or DVD format with similar content. The release includes her performance at Club Quattro in Osaka (80 minutes) and additional footage from the other performances during her first solo tour that hit 4 venues in January 2013,
Jan 17th DRUM Be-1 Fukuoka, Jan 19th Club Quattro Umeda, Jan 20th Club Quattro Nagoya, and Jan 25th Club Quattro Shibuya.
The release also includes rehearsal, backstage, and other documentary footage (40 minutes) with total content planned for 120 minutes.
Enjoy short videos of her live during 2012 below the release details…
Leo Ieiri – "LEO ~ 1st Live Tour ~" – release date March 27th 2013
Blu-ray (¥4800)


DVD (¥4200)


[BD]
1. Live Club Quattro Umeda Jan 19th
2. Additional performance footage
3. Documentary off-shoot footage
[DVD]
1. Live Club Quattro Umeda Jan 19th
2. Additional performance footage
3. Documentary off-shoot footage