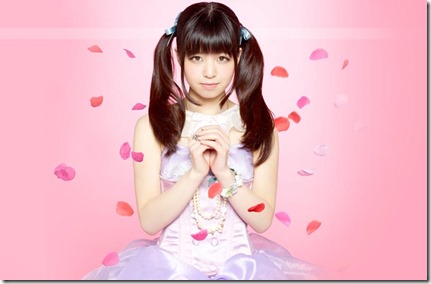 Luna Haruna has revealed more details on her upcoming 3rd single "Kimi ga Kureta Sekai" – cover jackets, full track list, and preview music video revealed. The single's coupling track "Tokoshie Ronde" will be featured as insert song for movie "Fujimi-Hime  ~ aru Zombie Shoujo no Sainan ~" that also stars Luna Haruna. Single "Kimi ga Kureta Sekai" comes on two editions and hits stores May 15th 2013 – read on for more details.
Model, singer, and now actress Luna Haruna (21) has modeled for magazine "KERA" and announced her presence as a singer when she was a finalist in the 4th Anison Grand Prix. Her debut song "Sora wa Takaky Kaze wa Utau" was a collaboration with Yuki Kajiura, released May 2nd 2012 and was featured as the ending theme for anime Fate/Zero season 2.
Most recently Luna Haruna released her 2nd single "Overfly" featured as the second ending theme for popular anime Sword Art Online. Single "Overfly" hit stores November 28th 2012 and fans propelled it to #7 on the weekly Oricon charts.
Her 3rd single "Kimi ga Kureta Sekai" comes on two editions,
– Limited with DVD that includes music video, making-of footage, and lots of documentary footage.
– Regular CD-only.
Preview music video for "Kimi ga Kureta Sekai" is below release details but region blocked outside of Japan (Sony SME)(will try to update with one viewable worldwide)
Luna Haruna – "Kimi ga Kureta Sekai" – release date May 15th 2013
Limited [CD+DVD] (¥1500)


Regular [CD] (¥1200)


[CD]
1. Kimi ga Kureta Sekai
2. Tokoshie Ronde
3. Kirameku Hoshi no Yamai
[DVD]
1. Kimi ga Kureta Sekai (music video)
2. Kimi ga Kureta Sekai (off shoot)
3. Recording sessions 
4. Cover jacket photo shoot
5. KERA (magazine fashion shoot)
6. KERA (off shoot)
[CD]
1. Kimi ga Kureta Sekai
2. Tokoshie Ronde
3. Kirameku Hoshi no Yamai
Luna Haruna Rekochoku Chaku-Uta