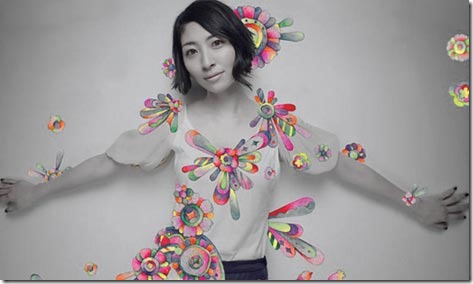 Maaya Sakamoto has announced new album "Singer Songwriter", her 8th original album. The album is planned to include eight new songs and two re-arranged songs for 10 total tracks. All included songs are written and produced by Maaya Sakamoto with arrangement handled by Shin Kono and Zentaro Watanbe. Album "Singer Songwriter" comes on two editions and scheduled to hit stores March 27th 2013. More information follows…
~ update details ~
Singer and voice actress Maaya Sakamoto most recently released compilation album "Single Collection + Mitsubachi" – which contains her singles released since 2005, song remix versions, and new song "Nekoze" composed by Yoko Kanno for a total of 17 tracks.The album hit stores November 14th 2012 – more details here.
To support the new album release Maaya Sakamoto has announced "LIVE TOUR 2013 ~ Roots of SSW" with six performances at three venues,
– March 30th & 31st 6:00pm/4:00pm International Convention Center Main Hall, Osaka
– April 19th & 20th 6:30pm/4:00pm Prefectural Art Theater Large Hall, Aichi
– April 24th & 25th 7:00pm/7:00pm Bunkamura Orchard Hall, Tokyo
Still active as a voice actress Maaya Sakamoto continues her role of Shinobu Oshino in anime Nekomonogatari (sequel Nisemonogatari). She also recently voiced Makinami Mari Illustrious in anime movie Evangelion 3.0 You Can (not) Redo and Rikako Oryo in anime series Psycho-Pass.
Album "Singer Songwriter" is available on two editions that contain 8 new songs, a re-arranged version of song "everywhere" originally included only on her 15th anniversary album "everywhere" (2010), and a re-arranged version of "Chikai" originally included on concept album "Driving in the silence" (2011),
– Limited with DVD that includes music video and documentary footage following Maaya Sakamoto in her song writing process.
– Regular CD-only.
Details are still early – full track list, cover jackets, and possible bonuses will be announced so come back to Comtrya Sugoi for updates.
Maaya Sakamoto "Singer Songwriter" – release date March 27th 2013
Limited [CD+DVD] (¥3570)


Regular [CD] (¥2940)


[CD]
1. – 8. undecided new songs
9. everywhere
10. Chikai
[DVD]
1. undecided (music video)
2. Documentary footage
[CD]
1. – 8. undecided new songs
9. everywhere
10. Chikai
Maaya Sakamoto Official website (FlyingDog)