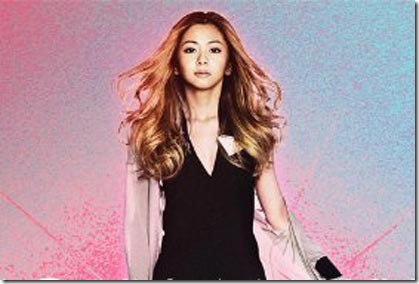 Mai Kuraki recently announced her first single of 2013 "TRY AGAIN" that is featured as the 35th opening theme for popular TV anime series Detective Conan (Case Closed). Its Kuraki's 39th single and 14th that's featured in the Detective Conan anime franchise. The title track and coupling song both have lyrics provided by Mai Kuraki. Single "TRY AGAIN" hits stores February 6th 2013 – read on for more details.
Mai Kuraki debuted at 16 years old in 1999 and has released 38 singles and 12 albums. Most recently she released single "Koi ni Koshite / Special morning day to you" on August 15th 2012, her only single release in 2012 (more details). Mai Kuraki has a long affiliation with the Detective Conan (Case Closed) anime franchise providing 16 songs featured as opening and ending theme songs for the TV anime series and movies,
ED9 (eps 180-204) "Secret of my heart" (2000)
ED11 (eps 219-232) "Start in my life" (2001)
ED12 (eps 233-247) "Always" (2001)
Theme movie #4 "Always" (2001)
OP10 (eps 259-270) "Winter Bells" (2002)
Theme movie #7 "Time after time" (2003)
OP12 (eps 306-332) "Kaze no La La La" (2003)
OP16 (eps 415-424) "Growing of My heart" (2005)
ED26 (eps 459-470) "Shiroi Yuki (White Snow)" (2006)
OP23 (eps 505-514) "Ichibyō goto ni Love for you" (2008) 
OP25 (eps 521-529) "Revive" (2009)
Theme movie #13 "PUZZLE (2009)
OP29 (eps 583-601) "Summer Time Gone" (2010) 
ED36 (eps 588-601) "Tomorrow is the Last Time" (2010, Album)
ED40 (eps 629-643) "Your Best Friend" (2011)
ED43 (eps 667-) "Koi ni Koishite" (2012)
OP35 (eps 681-) "TRY AGAIN"  (2013)
Both her 38th single "Koi ni Koishite" and upcoming 39th "TRY AGAIN" are featured now in the Detective Conan TV anime series.
Single "TRY AGAIN" comes on three editions,
– Limited with DVD that includes music video for title track.
– Limited Anime themed with DVD that includes the creditless opening animation for TRY AGAIN and Detective Conan.
– Regular CD-only
(Anime themed cover jacket will be updated when its published)
Mai Kuraki "TRY AGAIN" – release date February 6th 2013
Limited A [CD+DVD] (¥1200)


Limited Anime [CD+DVD] (¥1155)


[CD]
1. TRY AGAIN
(preview)
2. Sakura Sakura
3. TRY AGAIN (off vocal)
4. Sakura Sakura (off vocal)
[DVD]
1. TRY AGAIN (music video)
[CD]
1. TRY AGAIN
2. Sakura Sakura
3. TRY AGAIN (off vocal)
4. Sakura Sakura (off vocal)
[DVD]
1. TRY AGAIN (creditless anime opening)
Regular [CD] (¥1000)


 
[CD]
1. TRY AGAIN
2. Sakura Sakura
3. TRY AGAIN (off vocal)
4. Sakura Sakura (off vocal)