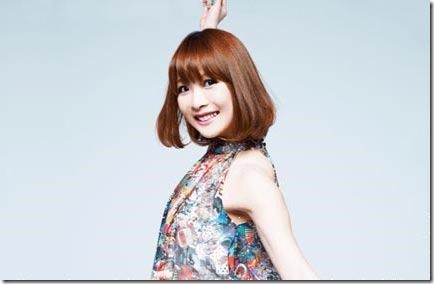 May'n announced the release of her 4th album (NEW WORLD) that will include singles ViViD, Run Real Run, and Chase the World, digital singles Mr. Super Future Star and Aozora, concert theme song ROCK YOUR BEATS, and more for 12 total tracks. May'n's 4th album comes on three editions scheduled for simultaneous release with her 9th single on January 29th 2014 – read on for more details…
~ Album titled, updated details ~
Also announced for release is May'n's 9th single Kyo ni Koiiro (今日に恋色) with tie-in as the opening theme for upcoming anime TV series Inari KonKon Koi Iroha. Single Kyo ni Koiiro comes on two editions scheduled along with the new album for release on January 29th 2014 (more details).
May'n has also announced a huge live tour May'n Road to 10th Anniversary Japan & World Tour 2014-2015 'dots and lines'. The tour is planned for 26 performances across Japan in 2014 and another set of performances in 2015. More details at special website (link below).
May'n's 4th album includes previously released songs each with tie-ins,
– ViViD (2013.07.24, OP anime Blood Lad)
– Run Real Run (2013.05.08, theme drama Real Onigokko THE ORIGIN)
– Mr. Super Future Star (2012.11.22, theme PS3 E.X. TROOPERS)
– Aozora (2012.10.04, ED anime BTOOM)
– Chase the world (2012.05.08, OP anime ACCEL WORLD)
May'n's 4th album (untitled) comes on three editions (details subject to change),
– Limited with DVD that includes 4 music videos and more.
– Limited with bonus CD containing May'n captured live during her just completed Tokyo International Forum Hall October 29th 2013 May'n Hall Tour 2013 "LIVE! CAVE! DIVE!" event.
– Regular CD-only.
Album title, full track list, jacket covers, and more will be announced, come back to Comtrya Sugoi for updates.
Watch the preview music videos for ViViD, Run Real Run, Mr. Super Future Star, and Chase the World below the release details.
May'n – 4th album untitled – release date January 29th 2014
Limited [CD+DVD] (¥3400)

Limited [CD+CD] (¥3200)

[CD]
1. ViViD
2. Chase the World
3. Mr. Super Future Star
4. ROCK YOUR BEATS
5. Run Real Run
6. Aozora 
7. – 12. undecided
[DVD]
1. ViViD (music video)
2. Run Real Run (music video)
3. Chase the World (music video)
4. Mr. Super Future Star (music video)
[CD]
1. ViViD
2. Chase the World
3. Mr. Super Future Star
4. ROCK YOUR BEATS
5. Run Real Run
6. Aozora
7. – 12. undecided
[CD]
1. May'n Hall Tour 2013 LIVE! CAVE! DIVE!
Regular [CD] (¥2900)

 
[CD]
1. ViViD
2. Chase the World
3. Mr. Super Future Star
4. ROCK YOUR BEATS
5. Run Real Run
6. Aozora
7. – 12. undecided