November 19, 2013
-
toyNN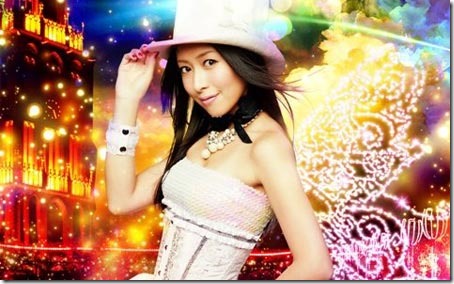 Minori Chihara has updated the release details for her new album NEO FANTASIA – jacket covers, full track list, and more revealed. Also revealed is a preview video for the Limited Blu-ray/DVD contents Premium Acoustic Live feat Crustacea. Album NEO FANTASIA comes on three editions scheduled for release on December 11th 2013 – updated details and preview video follow.
New album NEO FANTASIA is her 5th original album and first in almost two years since 4th album D-FORMATION released February 29th 2012 (more details). The new album has a "theme park" concept where the promotion says, "you can experience the music with a sense of coming to a land of dreams, a pounding thrill, and a happy feeling".
The album includes singles Kono sekai wa bokura wo matte ita (2013.04.23) featured as the opening theme for anime Gargantia on the verdurous Planet, SELF PRODUCER (2012.10.24) used as opening theme for anime Onii-chan Dakedo ai sae Areba Kankei nai yo, and ZONE//ALONE (2012.07.11) featured as opening theme for anime Horizon in the Middle of Nowhere II.
Voice actress, singer, and songwriter Minori Chihara gets the writing credit for several of the new songs on her new album. Including TREASURE WORLD which as posted to her blog site has a music PV video (not included on album).
Minori Chihara just recently released her 18th single Kyokai no Kanata on October 30th 2013 (more details). The single is featured as the opening theme for anime Beyond the Boundary (Kyokai no Kanata) and Minori Chihara is also voicing key character Mitsuki Nase in the dark fantasy anime. The single is included on the new album.
Minori Chihara also announced a special Christmas live, "Minori Chihara Xmas Party 2013" December 23rd 4:00pm at Ryogoku Kokugikan (Sumo Hall), Yokoami Sumida Tokyo. Tickets and more information at special website (link below).
Album NEO FANTASIA comes on three editions that share the same CD track list,
– Limited with Blu-ray or DVD that includes live acoustic performance m.s.s. Premium Acoustic Live featuring Crustacea (February 2013). Contents similar on Blu-ray or DVD. Deluxe packaging and special NEO FANTASIA photo booklet.
– Regular CD-only.
Target stores have special bonus (while supplies last) – ticket holder (Animate, Gamers, Toranoana, Softmap), clear file (JBOOK), picture 2L-size (HMV, Tower Records, Neowing).
Watch the preview video for m.s.s. Premium Acoustic Live featuring Crustacea includes on the Limited editions below the release details.
Minori Chihara – NEO FANTASIA – release date December 11th 2013
Limited [CD+BD] (¥5800)


Limited [CD+DVD] (¥4800)


[CD]
1. The immortal kingdom
2. TREASURE WORLD
lyrics: Minori Chihara, composition: Toshi Ryuo, arrangement: Junpei Fujita

3. SELF PRODUCER
4. TOON-GO-ROUND
5. 1st STORY
lyrics: Minori Chihara, music: Miyazaki Makoto

6. endless voyage
7. Masshiroki Shiro no Monogatari
8. Celestial Diva
9. Lonely Doll
lyrics: Minori Chihara, music Kikutani Tomoki

10. Kono sekai wa bokura wo matte ita
11. ZONE//ALONE
12. Kyokai no Kanata
13. NEO FANTASIA
14. Neverending Dream
lyrics: Minori Chihara, music: Evan Call
[BD]
1. m.s.s. Premium Acoustic Live featuring Crustacea (February 2013)

[CD]
1. The immortal kingdom
2. TREASURE WORLD
3. SELF PRODUCER
4. TOON-GO-ROUND
5. 1st STORY
6. endless voyage
7. Masshiroki Shiro no Monogatari
8. Celestial Diva
9. Lonely Doll
10. Kono sekai wa bokura wo matte ita
11. ZONE//ALONE
12. Kyokai no Kanata
13. NEO FANTASIA
14. Neverending Dream
[DVD]
1. m.s.s. Premium Acoustic Live featuring Crustacea (February 2013)
Regular [CD] (¥3000)


[CD]
1. The immortal kingdom
2. TREASURE WORLD
3. SELF PRODUCER
4. TOON-GO-ROUND
5. 1st STORY
6. endless voyage
7. Masshiroki Shiro no Monogatari
8. Celestial Diva
9. Lonely Doll
10. Kono sekai wa bokura wo matte ita
11. ZONE//ALONE
12. Kyokai no Kanata
13. NEO FANTASIA
14. Neverending Dream
Minori Chihara official website (new)
Minori Chihara Smile Days (blog)