Nana Mizuki has announced her 29th single ("Vitalization") with songs featured as the opening theme to anime Symphogear season 2 and as the ending theme for anime Space Battleship Yamato 2199 Chapter 7. Nana Mizuki also renews her roll as Tsubasa Kazanari in the second season of the anime, officially Senki Zessho Symphogear G. Her new single isn't yet title but will come with 3 songs and releases July 31st 2013 – read on for more details…
~ updated details "Vitalization" ~
Nana Mizuki has long been one of the most popular voice actresses in anime and has a long established career also as a singer. Most recently she teamed up with the talented Takanori Nishikawa better known as T.M.Revolution for the T.M.Revolution x Nana Mizuki special single "Preserved Roses" featured as the opening theme for mech anime Valvrave the Liberator. The single "Preserved Roses" hit stores on May 15th 2013 and sold over 115,000 copies opening week.
Nana Mizuki as well as voicing main character Tsubasa Kazanari for anime Symphogear she provided the opening theme for the first season with her 26th single "Synchrogazer" (2012.01.11) (also included on her 9th album "ROCKBOUND NEIGHBORS"). Fellow voice actress Ayahi Takagaki who voices key character Chris Yukine in the anime provided the first ending theme and will again provide the ending theme for season 2 (more details soon).
Anime Symphogear is set in an alternate future with idols who battle aliens called the Noise with musically charged armor known as Symphogear. The first season was packed with musical-magical girl mech action with lots of insert songs from Mizuki, Takagaki, and other key character voiced by Aoi Yuki. Expect more of the same for season two.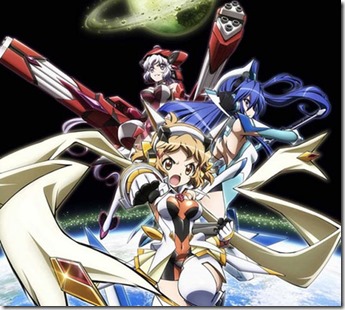 The anime produced by studio Satelight and distributed by Aniplex will have a special screening June 24th 2013 at Milano 1 Shinjuku, Tokyo. A lottery for 1000 fans selected to watch the first episode and hear from the staff including Nana Mizuki and Ayahi Takagaki. More details at the official website (link below). Regular broadcast is set for July 7th 2013 on Tokyo MX in Japan – no information if it will be available outside of Japan but season one was handled by Niconico/Funimation.
Nana Mizuki's first solo single of 2013 comes on one CD-only edition. First Press is available with deluxe packaging. Release details are still early, single's title, full track list, jacket covers and more will be announced so follow or come back to Comtrya Sugoi for updates.
Watch the season 2 announcement for anime Symphogear and enjoy the music video for the T.M.Revolution x Nana Mizuki special single "Preserved Roses" – both after the release details.
Nana Mizuki – 29th single – release date July 31st 2013
Regular [CD] (¥1200)


 
[CD]
1. undecided (OP Symphogear G)
2. undecided (ED Space Battleship Yamato 2199 #7)
3. undecided
 
Symphogear G episode 1 Special screening June 24th ticket lottery