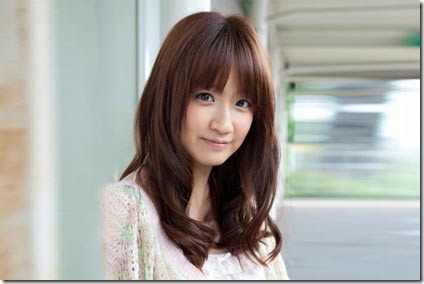 Natsuko Aso recently announced her 12th single "Never Ending Voyage". She is also getting ready for her special "Natsuko Aso Birthday LIVE" events at the end of the month July 28th at Daikanyama UNIT Shibuya. Her new single "Never Ending Voyage" comes on one Regular edition that's scheduled to hit stores July 24th 2013 – read on for more details…
~ updated details, full PV revealed ~
Most recently Natsuko Aso released her 11th single "Parade! / CROSS x OVER SENSATION" (2012.10.24) (more details). Title track "Parade!" has tie-in as the "Ragnarok Online RWC 2012 Japanese National Team Cheering Song" and track "CROSS x OVER SENSATION" with tie-in as theme song for OVA anime Otome wa Boku ni Koishiteru ~ Futari no Elder. The full music video for "Parade!" below.
Natsuko Aso also participated in last year's Lantis OTAKON MUSIC FEST 2012 held during the OTAKON anime and manga convention November 3rd 2012 Baltimore Maryland USA.
For her upcoming single Natsuko Aso has planned a launch event on release day. Viewing of the mini-live is free, handshake meeting limited to purchasers of the new single (event participation ticket distributed at most stores while supplies last),
– July 24th 5:00pm LaLaport TOYOSU Tokyo main stage.
Natsuko Aso will hold a special live day & night birthday events "Natsuko Aso Birthday LIVE",
– July 28th 12:00pm "The Natsuko Festival 2013!" Daikanyama UNIT Shibuya
– July 28th 5:30pm "Natsuko of the Night" Daikanyama UNIT Shibuya
New single "Never Ending Voyage" comes on one Regular CD-only edition. Jacket cover, full track list, and possible bonuses will be updated when announced.
Enjoy the music video from her 11th single "Parade!" below the release details.
Natsuko Aso "Never Ending Voyage" – release date July 24th 2013
Regular [CD] (¥1200)


 
[CD]
1. Never Ending Voyage
2. undecided
3. undecided
4. undecided
 
LaLaport TOYOSU Official website
Natsuko Aso 2013 Birthday LIVE (UNIT)