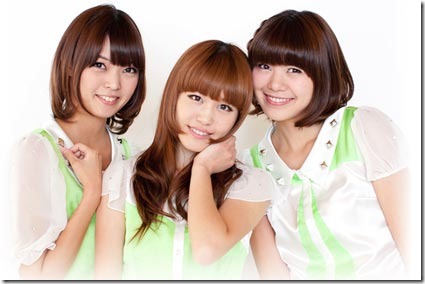 Idol unit Negicco has new single "Ai no Tower of Love" announced for release on February 13th 2013. The title song is produced by Gota Nishidera (NONA REEVES) and the as yet untitled coupling track is produce by the group's primary collaborator connie. Their 10th single "Ai no Tower of Love" is their first in over eight months – read on for more release details…
~ updated details ~
Negicco originally formed in 2003 as a 4-girl idol unit based out of Niigata. Now a 3-girl unit, featuring members Kaede, Nao, and Megu, in 2010 they placed #1 in the Grand Prix finals for local idol units. They released a greatest hits album Negicco 2003-2012 ~BEST~ on February 22nd 2012 (more details).
Upcoming live events with Negicco participating,
– "Miracle Lucky Girls 2013" Feb 11th 4:30pm Club QUATTRO Umeda Osaka. Also performing KIZUNA,YeYe
– "Negi ROAD Vol1" Feb 17th 4:30pm Daikanyama Loop Shibuya Tokyo. Also performing SAWA, UKO, Especia
Single "Ai no Tower of Love" comes on two edition,
– Limited with DVD that is planned to included footage from live event.
– Regular CD-only
Release details are still early – cover jackets and full track list will be announced so come back to Comtrya Sugoi for updates.
Enjoy the music video for their most recent single "Pop With You!" (2012.06.20) below the release details..
Negicco "Ai no Tower of Love" – release date February 13th 2013
Limited [CD+DVD] (¥1500)


Regular [CD] (¥1000)


[CD]
1. Ai no Tower of Love
2. undecided
3. Ai no Tower of Love (off vocal)
4. undecided (off vocal)
[DVD]
1. undecided Live footage
[CD]
1. Ai no Tower of Love
2. undecided
3. Ai no Tower of Love (off vocal)
4. undecided (off vocal)