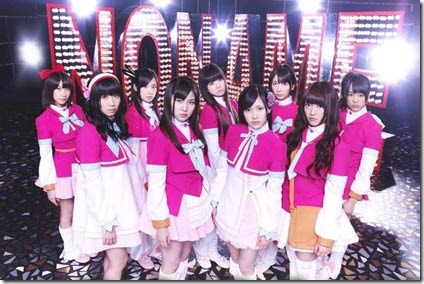 AKB48 Idol unit NO NAME recently announced their second single "Kono Namida wo Kimi ni Sasagu". The single's title track is featured as the ending theme for the second season of anime AKB0048 – AKB0048: next stage . Main coupling track "Aruji naki sono koe" is featured as the anime's opening theme song. Each of the four editions of the single include a different second coupling track used as an insert song in the anime. Single "Kono Namida wo Kimi ni Sasagu" is scheduled to hit stores April 10th 2013 – read on for more details…
~ updated details ~
NO NAME mirrors the fictitious band that is a key part of the anime – its 9 members are formed from the anime's voice cast who are all from the AKB48 family of idol groups. These 9 were selected in a competition of all 200 members of AKB48, SKE48, NMB48, HTK48 – more information about the selection process is in a post here and here.
NO NAME's first single "Kibo ni Tsuite" released on August 1st 2012 and included the AKB0048 season one opening theme (title track) and closing theme "Yume wa Nandomo Umarekawaru" (coupling track).
NO NAME and AKB0048 voice cast members are: Nakaya Sayaka (AKB48), Sato Amina (AKB48), Hata Sawako (SKE48),Sato Sumire (AKB48), Ishida Haruka (AKB48), Yagami Kumi (SKE48), Watanabe Mayu (AKB48), Iwata Karen(AKB48), Mita Mao (NMB48)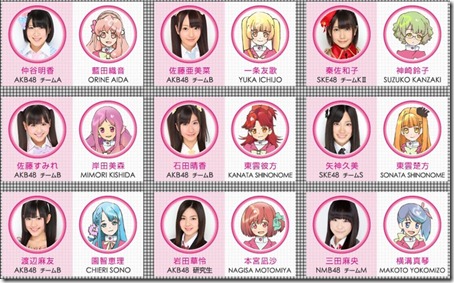 AKB0048 anime TV series is an original work based on the hugely popular AKB48 idol group and is produced by Satelight Studio, directed by Shoji Kawamori ("Macross"), and characters designed by Risa Ebata ("Macross F"). The story is set after a galactic war, Earth's ecosystem is destroyed which has pushed humans out into space colonizing several planets, all of which have a ban on all forms of entertainment. Generations of girls have come together to create a clandestine musical group "AKB0048" based on the famous idol group of the past and take arms up against the Super Galatical Alliance as it tries to suppress all entertainment. As this battle wages on nine young girls aspire to become a new generation of AKB0048.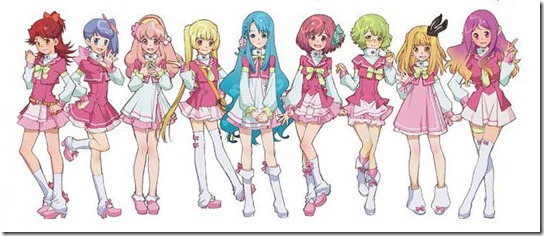 The first season aired April through July 2012 and second season AKB0048: next stage began airing in Japan January 5th 2013. Out side of Japan its streamed on Crunchyroll – check our Crunchyroll updates page for all the latest episodes or hit the link for AKB0048 for episodes and related posts. The first season's episodes are starting to back-fill on Crunchyroll with two released per week starting February 10th 2013.
Single "Kono Namida wo Kimi ni Sasagu" comes on four editions,
– Limited A with DVD that includes music video and making-of footage for title song plus bonus footage. Cover jacket features NO NAME.
– Limited B with DVD that includes animated music video and making-of footage for title song plus bonus footage (differs from type-A). Cover jacket features animated artwork.
– Regular C with bonus AKB0048 CD drama part 1. Cover jacket features NO NAME.
– Regular D with bonus AKB0048 CD drama part 2. Cover jacket features animated artwork.
First Press version for all four editions include photo (1 of 9) and event lottery card.
Cover jackets and additional details will be announced so check back to Comtrya Sugoi for updates.
NO NAME – "Kono Namida wo Kimi ni Sasagu" – release date April 10th 2013
Limited A [CD-DVD] (¥1470)


Limited B [CD-DVD] (¥1470)


[CD]
1. Kono namiba wo kimi ni sasagu
2. Aruji naki sono koe
3. Shoujo tachi yo (NO NAME ver.)
4. Kono namiba wo kimi ni sasagu (off vocal)
2. Aruji naki sono koe (off vocal)
3. Shoujo tachi yo (off vocal)
[DVD]
1. Kono namiba wo kimi ni sasagu (music video)
2. Music video off-shoot
3. additional bonus video
[CD]
1. Kono namiba wo kimi ni sasagu
2. Aruji naki sono koe
3. Ogoe (Shout-out) Diamond (NO NAME ver.)
4. Kono namiba wo kimi ni sasagu (off vocal)
2. Aruji naki sono koe (off vocal)
3. Ogoe (Shout-out) Diamond (off vocal)
[DVD]
1. Kono namiba wo kimi ni sasagu (animated music video)
2. Music video off-shoot
3. additional bonus video
Regular C [CD] (¥1000)


Regular D [CD] (¥1000)


[CD]
1. Kono namiba wo kimi ni sasagu
2. Aruji naki sono koe
3. Shonichi (NO NAME ver.)
4. AKB0048 drama 1 (tentative)
[CD]
1. Kono namiba wo kimi ni sasagu
2. Aruji naki sono koe
3. Temo demo no namida (NO NAME ver.)
4. AKB0048 drama 2 (tentative)