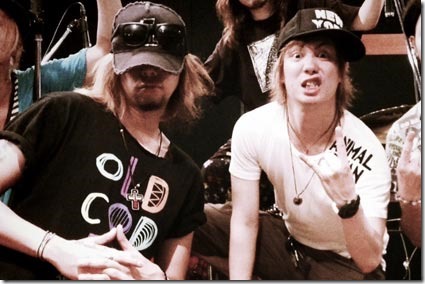 OLDCODEX has updated new single Walk – full track list, jacket covers, and preview music video all revealed. It's their 8th single and featured as the ending theme for the second season of anime Kuroko's Basketball. Single Walk comes on two editions that hit stores November 13th 2013 – read on for updated details and preview music video.
OLDCODEX's 5th single "CATALRHYTHM" (2012.08.08) was featured as first ending theme for anime Kuroko's Basketball plus member Suzuki Tatsuhisa (Vo) also voices the roll of Kazunari Takao in the anime.  Most recently the band released 7th single "Rage on" (2013.07.17) with tie-in as ending theme for just finished anime Free! – Iwatobi Swim Club and Suzuki Tatsuhisa voiced key character Makoto Tachibana.
Rock group OLDCODEX formed in 2009 with a unique combination of singer/voice actor Suzuki Tatsuhisa (Vo) who goes by Ta_2 in the band and artist/painter YORKE who now provides lyrics for most of the songs. The band originally formed with sound producer RON who left the group in 2012.
The anime Kuroko's Basketball (Kuroko no Basuke) is adapted from manga by Tadatoshi Fujimaki and centers around Kuroko Tetsuya who was part of a legendary Generation of Miracles middle school basketball team. He was the invisible 6th man on that team that no one seems to be able to remember. Now he is now a first year at Serin High School and chooses to become the shadow for fellow first year Kagami Taiga (who spent his middle school in America) and help fulfill Kagami's goal of becoming the best basketball player in Japan. Their team from Serin battles other teams including the 5 teams who each have one of the Generation of Miracles.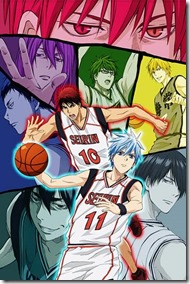 The first season of Kuroko's Basketball aired 24 episodes from April – September 2012 and season two is scheduled to start October 5th 2013 on Tokyo MX. Outside of Japan season one is available on Crunchyroll and season two will be simulcast on Crunchyroll. Check our updates page for Crunchyroll or hit the link for posts and episodes for Kuroko's Basketball.
Again providing anime Kuroko's Basketball opening theme is group GRANRODEO with their 20th single "The Other self" (more details).
OLDCODEX's 8th single Walk comes on two edition,
– Limited with DVD that includes music video and making-of footage for title track.
– Regular CD-only.
Watch the preview music video for Walk and trailer for anime Kuroko's Basketball after the release details.
OLDCODEX – Walk – release date November 13th 2013
Limited [CD+DVD] (¥1800)


Regular [CD] (¥1300)


[CD]
1. Walk
lyrics: YORKE, composer: Kato Hajime, arranger: OLDCODEX, Kato Hajime

2. Tag On The Strain
lyrics: YORKE, music: Gz
 
3. Stargazer
lyrics: YORKE, composer: Ta_2, arranger: eba
 
[DVD]
1. Walk (music video)
2. Walk (off shoot)

[CD]
1. Walk
2. Tag On The Strain
3. Stargazer