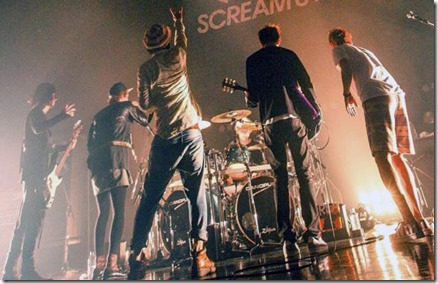 ORANGE RANGE has announced their 9th original album "spark" that includes singles "Oboro na Ageha", "Moshimo",  and "Sadistic Summer" plus new songs and more for 12 tracks (planned). The album comes on two editions that will hit stores July 24th 2013 – more details follow…
~ update details, audio previews ~
ORANGE RANGE most recently released their 24th single "Oboro na Ageha / Moshimo" on April 17th 2013. The double A-side single was the band's first single in almost three years except for several digital and limited availability releases. The music videos to support the single (not included with the single) are part of this album's Limited edition DVD. Last year ORANGE RANGE celebrated their 10th anniversary and released their 8th original album "NEO POP STANDARD" April 18th 2012.
ORANGE RANGE also is launching concert tour ORANGE RANGE LIVE TOUR 2013 ~spark~ that starts September 14th 2013 at Sun City Koshigaya Shimin Hall, Saitama and ends December 22nd 2013 at Aichi Prefectural Art Theater. The tour is planned for 30 performances at 27 venues, more details at their website (link below).
Album "spark" is available on two editions,
– Limited with DVD that includes music videos and live footage including 12-song performance during their LIVE TOUR 012 NEO POP STANDARD captured at Shibuya Public Hall July 4th 2012.
– Regular CD-only.
Jacket covers, full track list, and more will be updated when announced.
Watch the preview music videos for "Oboro na Ageha" and "Moshimo" below the release details.
ORANGE RANGE "spark" – release date July 24th 2103
Limited [CD+DVD] (¥3990)


Regular [CD] (¥3045)


[CD]
1. Oboro na Ageha
2. Moshimo
3. Sadistic Summer
4. – 12. undecided
[DVD]
1. Moshimo (music video)
2. Oboronaageha live (RWD SCREAM 013 Zepp Tokyo Feb 23rd 2013)
3. 12 songs live (LIVE TOUR 012 NEO POP STANDARD)
[CD]
1. Oboro na Ageha
2. Moshimo
3. Sadistic Summer
4. – 12. undecided