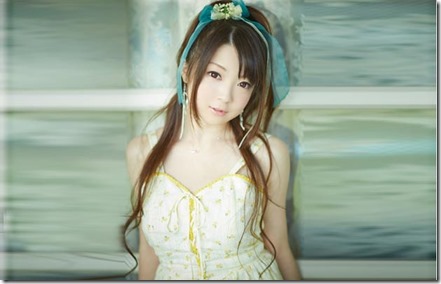 Ray has announced her 5th single ebb and flow with tie-up as then second opening theme for anime Nagi no Asukara. Ray provided the anime's first opening theme with her 4th single lull ~ Soshite Bokura wa ~. Single ebb and flow comes on two editions scheduled for release on February 5th 2014 – more details follow…
~ updated release details, PV ~
Ray debuted a bit less than two years ago and has released four singles all featured as anime opening/ending themes,
– sign (2012.02, OP Ano Natsu de Matteru),
– Rakuen PROJECT (2012.10.24, OP To Love-Ru Darkness),
– Recall (2013.02.06, ED AMNESIA),
– lull ~ Soshite Bokura wa ~ (2013.10.30, OP Nagi no Asukara)
Ray released her first album RAYVE (2013.06.05) that included her first three singles and more for 13 total tracks.
Upcoming solo live "RAYVE 02" is set for December 29th 2013 at Club Quattro Shibuya – the event is now sold-out. More details at Ray's official website (link below).
Anime Nagi no Asukara is an original project from studio P.A. WORKS and publisher Dengeki Daioh. Long ago humans protected by the sea god lived in the sea. As time past most humans cast aside the sea and moved to live on the land forgetting of their sea origins. But now middle school student Tsumugu Kihara meets and befriends four students who live in a village at the bottom of the sea.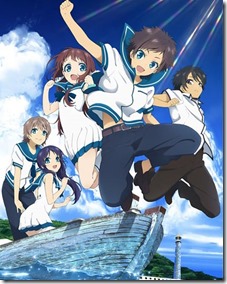 The anime started airing October 3rd 2013 on Tokyo MX in Japan and continues this winter with 26 total episodes planned. Outside of Japan Crunchyroll is simulcasting the anime. Check our Crunchyroll updates page or hit the link for Nagi no Asukara for episodes and related stories.
The anime's first ending theme is provided by Nagi Yanagi with her 6th solo single Aqua Terrarium (more details) and hopefully she'll be back with second ending theme also (not announced yet).
Ray's 5th single ebb and flow comes on two editions and includes song "Nagi" featured as the early image song for the anime plus a second coupling track not yet titled,
– Limited with DVD that includes music video, making-of footage, TV-spots, and more.
– Regular CD-only.
Full track list, jacket covers, and possible bonuses will be announced, come back to Comtrya Sugoi for updates. Watch the trailer for anime after the release details.
Ray – ebb and flow – release date February 5th 2014
Limited [CD+DVD] (¥1800) 


Regular [CD+DVD] (¥1200) 


[CD]
1. ebb and flow
2. undecided
3. Nagi (image song)
4. ebb and flow (off vocal)
5. undecided (off vocal)
6. Nagi (off vocal)
[DVD]
1. ebb and flow (music video)
2. ebb and flow (off shoot)
3. TV spot(s)
4. undecided
[CD]
1. ebb and flow
2. undecided
3. Nagi (image song)
4. ebb and flow (off vocal)
5. undecided (off vocal)
6. Nagi (off vocal)
Ray official website (Rondo Robe)