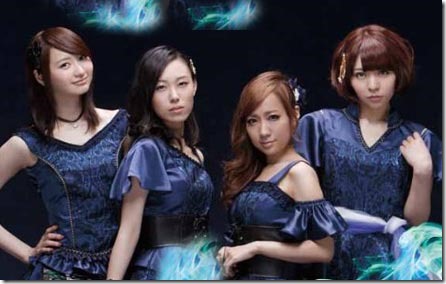 Sphere has updated the release details for their new single "GENESIS ARIA" – cover jackets and full track list are official. The single's title track has tie-in as the opening theme song for anime TV series Arata Kangatari (Arata The Legend). The group's 12th single "GENESIS ARIA" comes on two editions and hits stores May 1st 2013 – updated details follow.
Sphere consists of popular voice actresses (seiyuu) Aki Toyosaki, Ayahi Takagaki, Haruka Tomatsu, and Minako Kotobuki.
Member Ayahi Takagaki joins the voice cast for the anime, voicing key supporting character Kotoha. She also just released her first album "relation" on April 17th 2013 (more details) which fans pushed to #8 on the Oricon charts.
Anime Arata The Legend (Arata Kangatari) is adapted from manga by Yuu Watase (Fushigi Yugi, Absolute Boyfriend) with the story set in a mythical world where humans and gods co-exist. Young Arata has the unfortunate honor of being the successor to the matriarchal (female led) Hime Clan. He's forced to dress and act as a girl or face death if his true gender is discovered! On the day of his inauguration, an assassination plot forces him to flee – and he somehow someway winds up in modern-day Japan! At the same time a Japanese boy named Arata Hinohara gets transferred into the mythical world and thrust into the first Arata's world fighting for his life.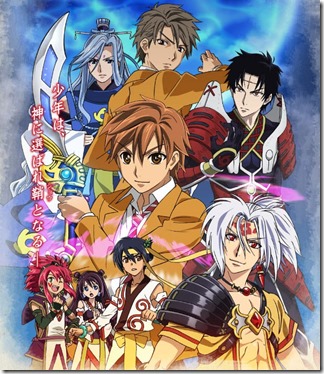 The anime is produced by Satelight and began airing in Japan April 8th 2013 on TV Tokyo. Outside of Japan Crunchyroll.com is simulcasting the anime same day. See our Crunchyroll updates page for all the latest anime episodes available or hit the link for Arata The Legend for episodes and related reports.
Sphere will hold a mini-live launch event for the new single June 23rd 2013 at 1:00pm & 4:30pm in Tokyo. 400 (x2) people invited by lottery with entry ticket included in both editions of the new single. Entry period ends May 5th 2013.
Single "GENESIS ARIA" title track is composed by Daisuke Kikuta (Elements Garden) and written by Saori Kodama. It comes on two editions,
– Limited with DVD that includes music video for title track. Entry ticket.
– Regular CD-only. Entry ticket.
Selected stores will add a photo (Animate, Gamers, Sofmap, HMV, Tower Records, Sony Music Shop, Toranoana).
Enjoy the newest trailer for anime Arata Kangatari below the release details…
SPHERE – "GENESIS ARIA" – release date May 1st 2013
Limited [CD+DVD] (¥1800)


Regular [CD] (¥1200)


[CD]
1. GENESIS ARIA
2. Time Machine
3. GENESIS ARIA (off vocal)
4. Time Machine (off vocal)
[DVD]
1. GENESIS ARIA (music video)
[CD]
1. GENESIS ARIA
2. Time Machine
3. GENESIS ARIA (off vocal)
4. Time Machine (off vocal)
Arata Kanagtari Official website