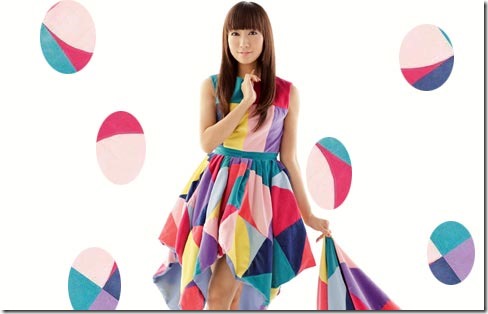 Singer and voice actress Ayahi Takagaki recently announced her first album "relation" and has revealed the cover jackets and more details (updated track list and bonus details (2013.04.10)). The album is planned to include her five singles, new songs, and more for a total of 13 tracks. The Limited edition's DVD will have a music video and making-of footage for a new song not yet announced. Takagaki also announced a 4-performance mini-tour in support of her first album. Album "relation" is scheduled to hit stores April 17th 2013 – read on for more details.
Ayahi Takagaki, in addition to voicing characters in anime (Hamaji: Hakkenden Eight Dogs of the East, Lisbeth: Sword Art Online, Wakana: Tari Tari), is part of the successful seiyuu-singing group Sphere. Along with Aki Toyosaki, Minako Kotobuki, and Haruka Tomasu the four recently released a music video collection "Music Clips 2009 – 2012" that includes the PV videos from all 11 of their singles, 3 albums, plus a new one for 15 total music videos. The video collection hit stores February 27th 2013 (more details).
Sphere also announced their fist single of 2013 "GENESIS ARIA" which will be featured as the opening theme for upcoming anime Arata Kangatari (Arata: The Legend). The single is scheduled to hit stores May 1st 2013 (more details).
New album "relation" is planned to include Takagaki's 5 previously released singles that all have tie-ins that feature her in a staring roll (except 5th single),
1st "Kimi ga iru basho" (2010.07) ED Occult Academy (anime)
2nd "Hikari no Fulfillment" (2010.11) ED The Legend of the Legendary Heroes! (anime)
3rd "Takara mono" (2011.04) OP Haru yasumi no koibito (TV drama)
4th "Meteor Light" (2012.02) ED Senki Zessho Symphogear (anime)
5th "Tsuki no namida" (2012.06) OP Jyuzaengi Engetsu Sangokuden (PSP game)
Ayahi Takagaki has announced her 2nd solo concert mini-tour "Concert Tour 2013 ~ relation of colors ~" with 4 planned performances,
– April 27th 5:00pm Prefectural Cultural Center, Tochigi
– May 4th 5:00pm Grand Cube, Osaka
– May 12th 4:30pm NGK Civic Center Forest Hall, Nagoya
– May 18th 5:00pm Pacifico Convention Hall, Yokohama
Along with the other members of Sphere, Takagaki will preform in solo concert events "Music Rainbow 02" featuring each member. The events will be held March 30th & 31st 2013 at Nakano Sun Plaza,
– March 30th 3:00pm Aki Toyosaki & 7:00pm Ayahi Takagaki
– March 31st 3:00pm Minako Kotobuki & 7:00pm Haruka Tomatsu
Her first album "relation" comes on two editions,
– Limited with DVD planned to include music video and making-of footage for new album song, slip-cover case, entry ticket. First Press at selected stores add a clear file bonus.
– Regular CD-only. First Press adds entry ticket, selected stores also offer a clear file bonus.
*Selected stores have additional First Press bonus photo (varies by store).
The Limited and First Press versions of the album entry ticket for lottery drawing for awards (entry period April 17th – 22nd),
– 10 people invited to concert at Grand Cube Main Hall, Osaka May 4th.
– 10 people invited to concert at Pacifico Convention Hall, Yokohama May 18th.
– 50 people receive signed poster (A).
– 50 people receive signed poster (B).
– all who apply receive special mobile waiting message.
Track list isn't yet complete so check back to Comtrya Sugoi for updates.
Ayahi Takagaki – "relation" – release date April 17th 2013
Limited [CD+DVD] (¥3500)


Regular [CD] (¥3000)


[CD]
1. overture
2. Soprano
3. Meteor Light
4. Hikari no Fulfillment
5. Kyoumei no Uta
6. Be with you
7. Brand New Smile
8. Tsuki no namida
9. Sound Of Mind
10. Kimi ga irubasho
11. Bright
12. Yume no Tonari
13. Takara mono 
14. Watashidake no Sora
[DVD]
1. Soprano (music video)
2. Making-of album "relation" (off shoot)
[CD]
1. overture
2. Soprano
3. Meteor Light
4. Hikari no Fulfillment
5. Kyoumei no Uta
6. Be with you
7. Brand New Smile
8. Tsuki no namida
9. Sound Of Mind
10. Kimi ga irubasho
11. Bright
12. Yume no Tonari
13. Takara mono
14. Watashidake no Sora
Sphere Official website (Planet Sphere)