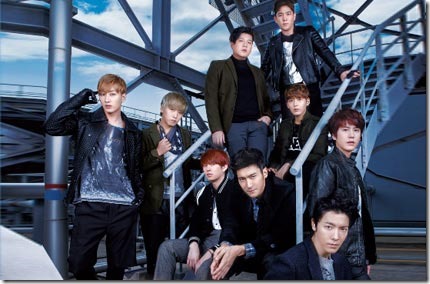 SUPER JUNIOR has updated the release details for their new Japanese single Blue World – jacket covers and audio preview revealed. Also announced tie-in as ending theme in December for NTV shows Music Dragon, Futtonda, and Sore Ike! Game Panther!. Single Blue World comes on three editions that hit stores December 11th 2013 – updated details and preview follows.
Its been over a year since Korean group SUPER JUNIOR released a Japanese single and Blue World is their first original Japanese single. SUPER JUNIOR's other 4 single releases in Japan were their hit Korean songs with Japanese lyrics.
Most recently SUPER JUNIOR released their first Japanese album Hero on July 24th 2013. The album has their 4 previously released Japanese singles, new Japanese songs, and more for 13 total tracks. Fans pushed Hero to #2 on the weekly Oricon charts with over 102,000 copies sold opening week.
SUPER JUNIOR's last Japanese single was Sexy, Free & Single (2012.08.22)(more details). Since then different group units have released Japanese songs – SUPER JUNIOR-KRY consisting of members Kyuhyun, Ryeowook and Yesung released Promise You January 23rd 2013 and SUPER JUNIOR: Donghae & Eunhyuk just released their second Japanese single I WANNA DANCE on June 19th 2013.
The group is also getting ready for their SUPER SHOW5 World Tour final performances at the Kyocera Dome Osaka. More details and ticket availability at their official website (link below),
– November 15th 2013 4:00pm Kyocera Dome Osaka
– November 16th 2013 2:00pm Kyocera Dome Osaka
SUPER JUNIOR's 5th Japanese single Blue World comes on two main editions and one fan club edition,
– Limited with DVD that includes music video and making-of footage for title track. First Press version adds trading card (1 of 9)
– Regular CD-only that includes two karaoke tracks. First Press version adds trading card (1 of 9).
– E.L.F. Japan fan club Edition CD-only. Includes live digest footage from their SUPER SHOW5 World Tour performances held July 27th & 28th 2013 at Tokyo Dome. Also includes trading card (1 of 9) and additional undecided bonus.
Listen to the audio medley preview for single Blue World below the release details.
SUPER JUNIOR – Blue World – release date December 11th 2013
Limited [CD+DVD] (¥1890)

Regular [CD] (¥1050)

[CD]
1. Blue World
2. CANDY
[DVD]
1. Blue World (music video)
2. Blue World (off shoot)
[CD]
1. Blue World
2. CANDY
3. Blue World (off vocal)
4. CANDY (off vocal)
E.L.F. Japan (fan club) Edition [CD] (¥1050)

[CD]
1. Blue World
2. CANDY
[CD Extra]
1. SUPER SHOW5 in Tokyo (digest footage)
SUPER JUNIOR Official website (Japan)
SUPER JUNIOR ELF fan club (Japan)