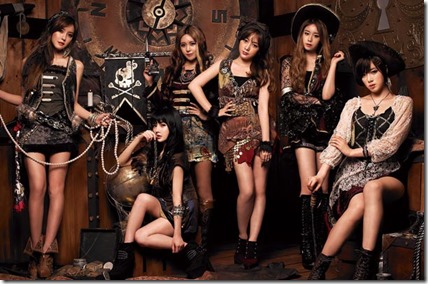 T-ARA is getting ready to drop their 2nd Japanese album "TREASURE BOX" and has revealed all the release details including jacket covers and bonuses. The new album includes their Japanese singles, "Sexy Love", "Bunny Style!", and just released "TARGET", plus the Japanese version of "DAY BY DAY", unit songs, and new songs for a total of 13 tracks. Album "TREASURE BOX" comes on three editions that hit stores August 7th 2013. Updated details and more news on T-ARA follow.
On July 10th 2013 it was announced that member Areum was leaving the group to focus on solo activities and is not included on the new album's cover art or bonuses. Areum joined T-ARA a little over a year ago during the time of controversial departure of member Hwayoung. T-ARA is now comprised six original members Eunjung, Qri, Jiyeon, Soyeon, Boram, and Hyomin. Video message from Areum announcing her future and leaving the group below.
T-ARA recently released their 7th Japanese single "TARGET" on July 10th 2013 (more details). The group also recently released Japanese single "Kaze no Yoni" (2013.06.23) from sub-unit QBS comprised of members Qri, Boram, and Soyeon.
T-ARA has also announced a 2nd major tour of Japan in support of the new album, "T-ARA JAPAN TOUR 2013 ~TREASURE BOX ~" that hits 5 venues with 9 performances. More details at their website (link below),
– Sept 4th & 5th Sun Palace Hall, Fukuoka
– Sept 7th & 8th Kobe World Hall, Kobe
– Sept 10th & 11th Nitori Cultural Hall, Sapporo
– Sept 15th Congress Center Century Hall, Nagoya
– Sept 26th & 27th Nippon Budokan, Tokyo
T-ARA's 2nd Japanese album "TREASURE BOX" had originally been reported for release on July 31st but perhaps due to the group line-up change it was pushed back a week to August 7th 2013. The album is available on different three editions,
– Diamond with DVD that includes "Every Day T-ARA" full-length directors cut with 30 minutes of unreleased footage (210 minutes). Deluxe tall-case, 32-page photobook, serial-numbered trading card.
– Sapphire with DVD that includes 5 music videos. Deluxe tall-case, extra jacket cover, rubber key-holder (1 of 7), and serial-numbered trading card (1 of 6). Samples below – *unknown if the Areum key-holder is still available as all other Areum themed bonuses were pulled.
– Pearl CD-only. First Press includes members solo-shot calendar (August-Dec  2013)(1 of 6) and serial-numbered trading card. Calendar samples below (2 of 6).
Watch the message from Areum announcing leaving T-ARA and a fan MV for single TARGET below the release details.
T-ARA "TREASURE BOX" – August 7th 2013
Limited Diamond [CD+DVD] (¥6800)


Limited Sapphire [CD+DVD] (¥4300)


[CD] (track order tentative)
1. Sexy Love
2. DAY BY DAY
3. Bye Bye
4. Hajimete no yo ni
5. Bunny Style!
6. Sign (Soyeon, Areum)
7. Shabontama no Yukue (Boram, Qri)
8. Dangerous Love (Eunjung, Hyomin, Jiyeon)
9. TARGET
10. Asonde Miru?
11. Deja-vu (new)
12. Beautiful Sniper (new)
13. Kimi wa Boky no Takaramono ~ Happy Birthday to you ~ (new)
[DVD]
1. Every Day T-ARA ~ Director's Cut ~ (210min)
[CD]
1. Sexy Love
2. DAY BY DAY
3. Bye Bye
4. Hajimete no yo ni
5. Bunny Style!
6. Sign (Soyeon, Areum)
7. Shabontama no Yukue   (Boram, Qri)
8. Dangerous Love (Eunjung, Hyomin, Jiyeon)
9. TARGET
10. Asonde Miru?
11. Deja-vu (new)
12. Beautiful Sniper (new)
13. Kimi wa Boky no Takaramono ~ Happy Birthday to you ~ (new)
[DVD]
1. Sexy Love (music video)
2. Sexy Love (dance ver.)
3. DAY BY DAY (music video)
4. Bunny Style! (music video)
5. Target (music video)
Regular Pearl [CD] (¥3060)


[CD]
1. Sexy Love
2. DAY BY DAY
3. Bye Bye
4. Hajimete no yo ni
5. Bunny Style!
6. Sign (Soyeon, Areum)
7. Shabontama no Yukue (Boram, Qri)
8. Dangerous Love (Eunjung, Hyomin, Jiyeon)
9. TARGET
10. Asonde Miru?
11. Deja-vu (new)
12. Beautiful Sniper (new)
13. Kimi wa Boky no Takaramono ~ Happy Birthday to you ~ (new)
T-ARA Official website (Korea)