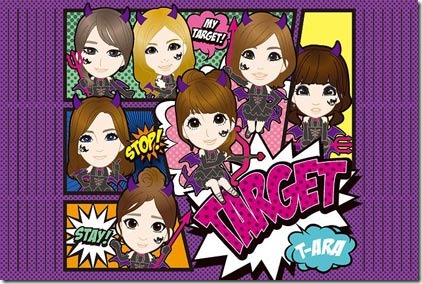 T-ARA has revealed a preview music video for their new Japanese single "Target" plus updated the bonus details. The music video for the single features an animated T-ARA with a mix of anime and "goblin" characters (similar to jacket covers). The music video is produced by Masao Maruyama (founder Madhouse) with his new anime studio MAPPA. T-ARA's 7th Japanese single "Target" comes on three editions that hit stores July 10th 2013. More details and PV follow.
The group just released Japanese single "Kaze no Yoni" from sub-unit QBS comprised of members Qri, Boram, and Soyeon. The sub-unit's debut single hit stores June 26th 2013. And most recently T-ARA released their 6th Japanese single "Bunny Style!" (バニスタ!) on March 20th 2013. Fans showed their support and pushed the single to #2 on the Oricon weekly charts. More details on the single and preview music video available here.
T-ARA has also announced more details for their 2nd Japanese album now titled "TREASURE BOX"  (more details)and 2nd major tour of Japan re-titled in support of the new album, "T-ARA JAPAN TOUR 2013 ~TREASURE BOX ~" that hits 5 venues with 9 performances. More details at their website (link below),
– Sept 4th & 5th Sun Palace Hall, Fukuoka
– Sept 7th & 8th Kobe World Hall, Kobe
– Sept 10th & 11th Nitori Cultural Hall, Sapporo
– Sept 15th Congress Center Century Hall, Nagoya
– Sept 26th & 27th Nippon Budokan, Tokyo
T-ARA's new Japanese single "Target" originally scheduled for a July 3rd release now comes out a week later on July 10th 2013. Its available on three editions,
– Limited with DVD that includes music video for title track. Deluxe packaging and trading card ( 1 of 8 ).
– Regular A & B CD-only. Includes trading card ( 1 of 8 ). A & B versions have different jacket covers.
While supplies last on all three editions most stores will offer a bonus sticker featuring the animated goblin characters (see sample). Most internet stores will offer the sticker or IC cards (7 of 7) which award will be randomly chosen at time of shipping.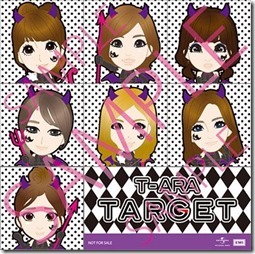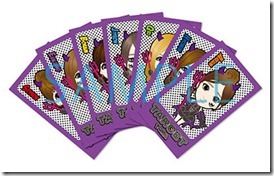 The single is also planned to include a lottery application for priority tickets "T-ARA JAPAN TOUR 2013 ~TREASURE BOX ~".
Watch the PV music video for "Target" below the release details..
T-ARA "Target" – release date July 3rd 10th 2013
Limited [CD+DVD] (¥1500)


Regular A [CD] (¥735)


[CD]
1. Target
(preview)
2. Target (off vocal)
[DVD]
1. Target (music video)
[CD]
1. Target
2. Target (off vocal)
Regular B [CD] (¥735)


 
[CD]
1. Target
2. Target (off vocal)
 
T-ARA Official website (Korea)