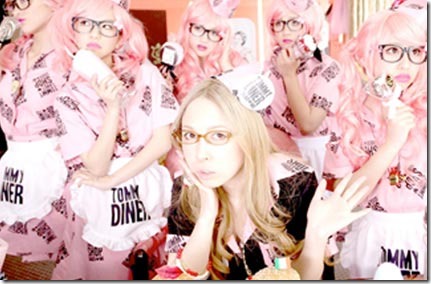 TOMMY february6 (Tomoko Kawase) has announced a new album "TOMMY CANDY SHOP ♥ SUGAR ♥ ME" as another part of her 15th anniversary celebrations. The album includes newly announced song "Runaway" that's featured as theme song for TV Tokyo show Jitsuroku Sekai no Mystery (Real World Mystery). Album "TOMMY CANDY SHOP ♥ SUGAR ♥ ME" comes on two editions and is scheduled to hit stores June 12th 2013 – read on for more details (updated preliminary cover jacket and bonus information) …
Tomoko Kawase is the lead vocalist/composer for band the brilliant green in addition she also leads two solo projects as alter-egos Tommy february6 (pop) and Tommy heavenly6 (rock). Her three projects have produced several anime tie-in songs – Gintama's first opening theme "Pray", Gundam 00 themes – "Ash Like Snow" and "Unlimited Sky", Soul Eater – "PAPERMOON", and Bakuman – "monochrome rainbow". She released on February 29th 2012 was a double album "FEBRUARY & HEAVENLY", half as Tommy february6 and half as Tommy heavenly6.
Tomoko Kawase as her alter Tommy february6 recently released new single "Be My Valentine" on February 6th 2013. The release is part of her 15th anniversary celebrations since Tomoko Kawase's debut with band the brilliant green. She released new mini-album as both Tommy february6 and Tommy heavenly6 – "HALLOWEEN ADDICTION" with extended length song "Never Ending Party Night" (10+minutes) on October 17th 2012 (more details).
Album "TOMMY CANDY SHOP ♥ SUGAR ♥ ME" comes on two edition,
– Limited with DVD that's planned to include two music videos for new songs "Runaway" and "SUGAR ME♡". First Press version adds special packaging, sticker, and possible additional bonus.
– Regular CD-only. First Press version adds bonus b2-size poster (available at most stores and online shops).
Details aren't yet final – official full track list, cover jackets, and more will be announced follow or come back to Comtrya Sugoi for updates.
Via twitter Tomoko Kawase posted a preliminary cover jacket art for the Limited edition: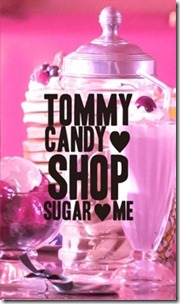 Tommy february6 (Tomoko Kawase) – "TOMMY CANDY SHOP ♥ SUGAR ♥ ME" – release date June 12th 2013
Limited [CD+DVD] (¥4300)


Regular [CD] (¥3150)


[CD]
1. BE MY VALENTINE
2. Runaway
3. SUGAR ME♡
4. SUMMER BUBBLES
5.  – ? undecided songs
[DVD]
1. Runaway (music video)
2. SUGAR ME♡ (music video)
[CD]
1. BE MY VALENTINE
2. Runaway
3. SUGAR ME♡
4. SUMMER BUBBLES
5. – ? undecided songs