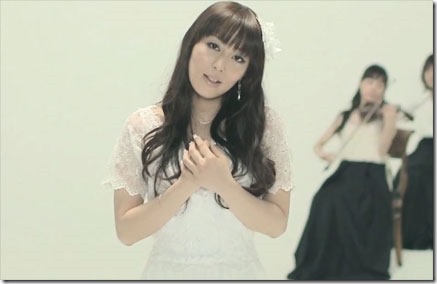 Yoko Hikasa updated the details for her 2nd single "Owaranai uta" – jacket covers, full track list, and preview music video all revealed. The title track has tie-in as the theme song for upcoming anime movie HAL. The movie is an original production from animation studio WIT Studio and also stars Yoko Hikasa in the lead roll of Kurumi. Single "Owaranai uta" comes on two editions and hits stores June 5th 2013 – updated details and PV video follow.
Yoko Hikasa is just about to release her first solo single "Utsukushiki zankoku na sekai" (美しき残酷な世界) featured as ending theme for anime TV series Attack on Titan (Shingeki no Kyojin). The upbeat rock songs (title and coupling track) are a perfect debut release. The single releases May 8th 2013 (more details). Yoko Hikasa will also release her first album titled "Yoko Hikasa Glamorous Songs" on July 17th 2013.
Anime voice actress and singer Yoko Hikasa has released many singles tied to or as an anime character and collaborated with other cast members on anime opening and ending theme songs. Most notably she voiced and released character singles as Mio Akiyama for hit anime K-ON! (2009/2010). She also provided the majority of the vocals for anime's fictional group Hokago Tea Time which provided the opening and ending theme songs for both seasons and movie (2011) of the popular anime. Check out the complete box set of 200 tracks (12 disks) of music from the K-ON! franchise – "K-ON! MUSIC HISTORY'S BOX" which released on March 20th 2013 (more details).
Anime movie HAL is an original story from newly formed WIT Studio who is also in-charge of current anime Attack on Titan. The story, placed in the near future, follows Kurumi who loses Haru the boy she likes to an airplane accident. An AI robot "Hal" (Haru) becomes a substitute for the boy and love she lost.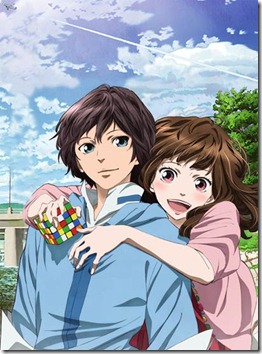 The movie stars Yoko Hikasa in the roll of Kurumi and Yoshimasa Hosoya (Kids on the Slope, Kuroko's Basketball) as Hal/Haru. Anime movie HAL hits theaters in Japan June 8th 2013 – check out the trailer below.
Much more of a ballad song – single "Owaranai uta" is quite a contrast from Yoko Hikasa's debut single and shows her versatility (and excellent voice) as a singer. The title track and coupling track are composed by yamazo (Pet Girl of Sakurasou, Haganai NEXT). The single comes on two editions,
– Limited with DVD that includes music video plus an 8-pg booklet.
– Regular CD-only.
Watch a preview music video for "Owaranai uta" and trailer for anime movie HAL below the release details..
Yoko Hikasa – "Owaranai uta" – release date June 8th 2013
Limited [CD+DVD] (¥1800)


Regular [CD] (¥1200)


[CD]
1. Owaranai uta
2. Innocent
3. Owaranai uta (off vocal)
4. Innocent (off vocal)
[DVD]
1. Owaranai uta (music video)
[CD]
1. Owaranai uta
2. Innocent
3. Owaranai uta (off vocal)
4. Innocent (off vocal)
Yoko Hikasa Official website (Pony Canyon)