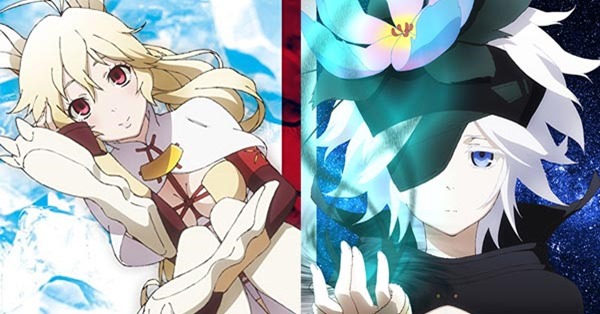 Yoko Hikasa (日笠陽子) provides ending theme #2 Dance in the Fake and Aoi Yuuki (悠木碧) provides ending theme #3 Nameless Heart for anime Rokka: Braves of the Six Flowers (Rokka no Yūsha,六花の勇者). Both voice a character in the anime and sing the theme songs in character voice – Nachetanya (Yoko Hikasa) and Flamie Speeddraw (Aoi Yuuki). Single Dance in the Fake releases September 9th 2015 and single Nameless Heart releases September 16th 2015.
Rookie anisong artist MICHI made her debut release with single Cry for the Truth / Secret Sky (2015.07.22). The songs are featured as the anime's first opening and ending themes respectively.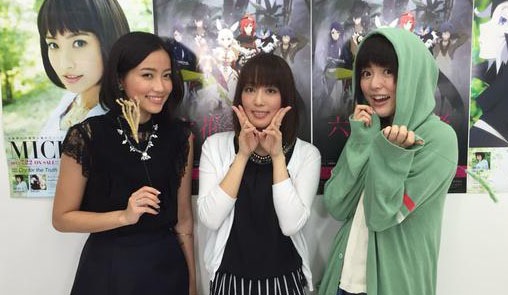 MICHI, Yoko Hikasa, and Ai Kakuma (CV: Chamot) after nicocnico live event looking back at the anime's episodes 1-7 on August 26th 2015.
Anime Rokka: Braves of the Six Flowers (Rokka no Yūsha,六花の勇者) is adapted from light novels by Yamagata Ishio with illustrations by Miyagi. The story follows six heroes awoken to save the world. Adlet who proclaims himself the strongest on Earth gathers with the other Braves of the Six Flowers but seven have come. All suspect an enemy among the group with Adlet appearing the most likely.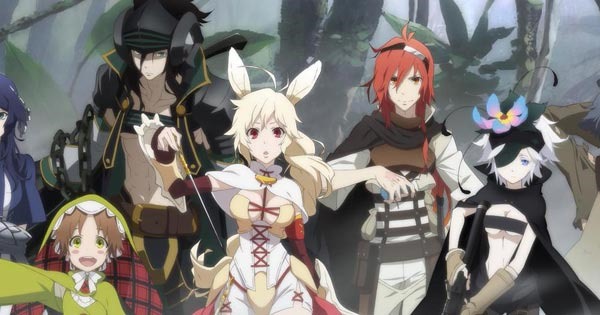 Sato Soma (Tatsumi Akame ga KILL!) voices Adlet with key supporting rolls by Aoi Yuuki (Flamie) and Yoko Hikasa (Nachetanya). The anime started airing July 4th 2015 on MBS TV in Japan and provider Crunchyroll streams worldwide. Check our Crunchyroll updates page for all the new anime episodes or hit the link for Rokka: Braves of the Six Flowers for episodes and related stories.
Newly formed rock unit UROBOROS provides the second opening theme Black Swallowtail.
The two ending theme song singles come on a CD-only edition. Select stores offer bonus 2nd jacket cover or anime illustrated photo (animate, Gamers, Kyanime, Tsutaya).
Yoko Hikasa (CV: Nachetanya) – Dance in the Fake – release September 9th 2015
Aoi Yuuki (CV: Flamie Speeddraw) – Nameless Heart – release September 16th 2015
Regular [CD] (¥1250)


Regular [CD] (¥1250)


[CD]
1. Dance in the Fake
lyrics: RUCCA, music: Fujima Hitoshi (Elements Garden)

2. True Heaven
lyrics: RUCCA, music: Iwahashi Seima (Elements Garden)

3. Dance in the Fake (off vocal)
4. True Heaven (off vocal)

[CD]
1. Nameless Heart
lyrics: RUCCA, music: Fujima Hitoshi (Elements Garden)

2. Frozen Flower
lyrics: RUCCA, music: Fujima Hitoshi (Elements Garden)

3. Nameless Heart (off vocal)
4. Frozen Flower (off vocal)

Regular [CD] (¥1200)


 
[CD]
1. Black Swallowtail
2. ANOTHER ARK (digest)
3. Black Swallowtail (TV-size)
4. Black Swallowtail (off vocal)
 
Rokka Braves of the Six Flowers (Japanese)
Rokka Braves of the Six Flowers (English)
Yoko Hikasa Official website (Pony Canyon)
Aoi Yuuki Official website (JVC Music)