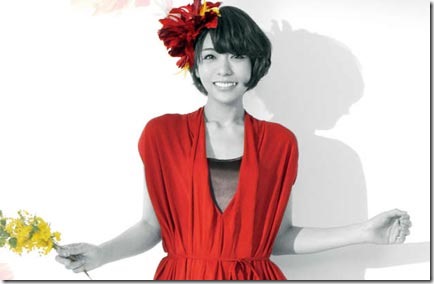 Aki Toyosaki (豊崎愛生) announced a new single (untitled) and a live DVD/Blu-ray set for simultaneous release. Music for her 11th single is a first time collaboration with Sato Taiji of rock band Theatre Brook. The live DVD and Blu-ray captures the Aki Toyosaki 2nd concert tour 2013 "Letter with Love" held at Yokohama National Convention Hall January 5th 2014. Her 11th single and live concert release both hit stores July 9th 2014 – read on for more details…
~ single titled – Kanae Tamae – updated details ~
Popular voice actress and singer Aki Toyosaki most recently released 10th single Delight (ディライト) on March 19th 2014. She has a busy Spring 2014 anime season voicing Izana Shinatose in Knights of Sidonia, Tsumugi Ryukishihara in Kanojo ga Flag wo Oraretara, and Seitenshi in Black Bullet.
Aki Toyosaki is also a member of group Sphere with other seiyuu Ayahi Takagaki, Haruka Tomatsu, and Minako Kotobuki. The group just celebrated their 5th anniversary earlier this year and just released their 15th single Kasuka na Hisoka na Tashika na Mirai (微かな密かな確かなミライ) on May 14th 2014. The single has tie-up as the ending theme for anime Nanana's Buried Treasure.
Sphere has also announced their 4th album 4 colors for you upcoming for release on June 25th 2014 (more details).
The celebrate her upcoming new single Aki Toyosaki will be making several in-store appearances with participation tied to purchases at the target store(s). The events will be mini-live and talk,
– July 9th 2014 6.30pm Tower Records Shibuya (Shinjuku & Shibuya stores)
– July 23rd 2014 6:30pm Aimeito Ikibukuro Animate Hall (all Animate stores)
Aki Toyosaki's 11th single (untitled) comes on two editions. Limited and Regular First Press include deluxe packaging and awards flyer (details coming). The live DVD & Blu-ray concert release includes the live performance and a documentary video of her 2nd solo live tour. Details on both of these releases still subject to change.
Many more details coming – follow Comtrya Sugoi for updates.
Aki Toyosaki – 11th single (untitled) – release date July 9th 2014
Limited [CD+DVD] (¥1713)


Regular [CD] (¥1241)


[CD]
1. title song undecided
2. cw undecided
3. title song undecided (off vocal)
4. cw undecided (off vocal)
[DVD]
1. title song undecided (music video)
[CD]
1. title song undecided
2. cw undecided
3. title song undecided (off vocal)
4. cw undecided (off vocal)
Aki Toyosaki – 2nd Concert Tour 2013 "Letter With Love" – release date July 9th 2014
Blu-ray (¥7593)


DVD (¥5741)


[BD]
1. Concert performance
2. Tour documentary
[DVD]
1. Concert performance
[DVD2]
1. Tour documentary