September 10, 2014
-
toyNN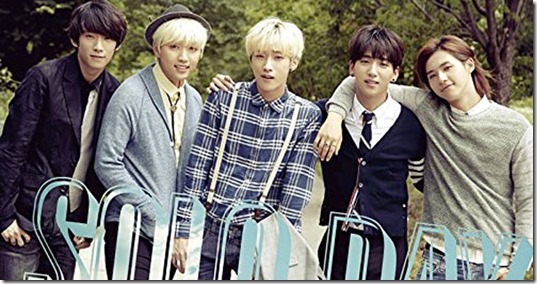 B1A4 just released their 4th Japanese single SOLO DAY with the songs written and composed by lead member Jinyoung*. The Korean version of the single released July 14th 2014 as the group's 5th mini-album. Single SOLO DAY comes on three editions that hit stores September 10th 2014 – details and preview music video follow.
Korean group B1A4 most recently released their 2nd Japanese album "2". The album includes single Ige Musun Iriya – Nande? Doshite? plus Japanese versions of previously released Korean songs, and more for 8 total tracks. Album "2" hit stores March 19th 2014 and climbed into #9 on the weekly Oricon charts.
Single SOLO DAY comes on three editions. Regular includes a new original Japanese song written and composed by Jinyoung plus a First Press version adds trading card (1 of 3). Each edition includes a different event application code for high-touch meeting and autograph session. The 4th single launch events will be held late September in Fukuoka, Osaka, Nagoya, and Kanto areas (details on applications).
– code A+B+C for autograph + high-touch
– code A, B, or C for high-touch
Preview music video for SOLO DAY (Japanese ver.) and Oricon Style interview with members both after the release details.
*Korean lyrics for songs written by Jinyoung.
B1A4 – SOLO DAY (Japanese ver.) – release date September 10th 2014
Limited A [CD+DVD] (¥1500)


Limited B [CD+DVD] (¥1500)


[CD]
1. SOLO DAY (Japanese ver.)
2. イェッポ
3. OH MY GOD (Japanese ver.)
4. SOLO DAY (off vocal)
5. イェッポ (off vocal)
6. OH MY GOD (off vocal)
[DVD]
1. SOLO DAY (music video)
2. SOLO DAY making-of music video
3. SOLO DAY – Shooting making
[CD]
1. SOLO DAY (Japanese ver.)
2. イェッポ
3. OH MY GOD (Japanese ver.)
4. SOLO DAY (off vocal)
5. イェッポ (off vocal)
6. OH MY GOD (off vocal)
[DVD]
NicoNico Live Panels
1. Japan debut (2012.07.01)
2. Ige Musun Iriya – Nande? Doshite? release specials (2013.08.29)
3. album "2" release specials (2014.04.17)
Regular [CD] (¥1200)


 
[CD]
1. SOLO DAY (Japanese ver.)
2. イェッポ
3. OH MY GOD (Japanese ver.)
4. TELL ME WHY
5. SOLO DAY (off vocal)
6. イェッポ (off vocal)
7. OH MY GOD (off vocal)
8. TELL ME WHY (off vocal)