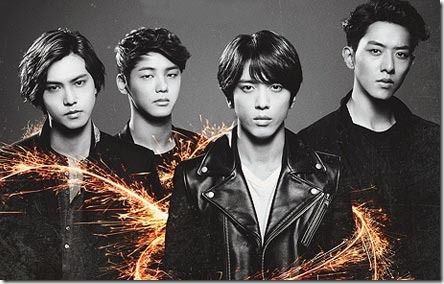 CNBLUE added more details for new Japanese single Go your way – full track list, jacket covers, and bonuses revealed. Their 8th Japanese single comes on 3 editions plus a fan club "BOICE" version. Single Go your way is scheduled for release August 20th 2014 – read on for all the details…
~ PV unveiled ~
Most recently Korean band CNBLUE released 7th Japanese single Truth on April 23rd 2014 (more details). Fans showed strong support for the popular group pushing the single to #4 on the weekly Oricon charts.
Single Go your way comes on three editions plus a fan-club version. Each edition's CD-track list includes a different karaoke track. A different type serial number flyer is included and submit any 3 of the 4 different serial number types to be entered into awards lottery,
– 500 winners mini stand-up billboard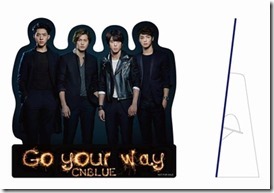 – 500 winners 3D-poster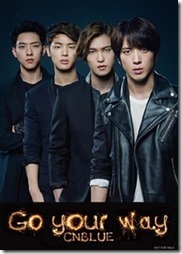 CNBLUE along with FTISLAND and other FNC group promote the recently released FNC KINGDOM IN JAPAN 2014 DVD release below the release details.
CNBLUE – Go your way – release date August 20th 2014
Limited A [CD+DVD] (¥2400)


Limited B [CD+DVD] (¥2000)


[CD]
1. Go your way
2. Control
3. Monster
4. Control (off vocal)
[DVD]
1. Go your way (music video)
2. Go your way (special)
3. ARENA TOUR 2013 ~ ONE MORE TIME ~
– Coffee shop
– One More Time
– I'm sorry
[CD]
1. Go your way
2. Control
3. Monster
4. Monster (off vocal)
[DVD]
1. LIVE from SUMMER SONIC 2013
– Where you are
– In My Head
– Blind Love
Regular [CD] (¥1200)


Fanclub [CD+DVD] (¥2000)

[CD]
1. Go your way
2. Control
3. Monster
4. Go your way (off vocal)
[CD]
1. Go your way
2. Control
3. Monster
4. Go your way (off vocal)
[DVD]
1. LIVE & DIGEST from Fan Meeting 2014
– Can't Stop
– Blind Love
– Greedy Man
CNBLUE Official website (Japanese)