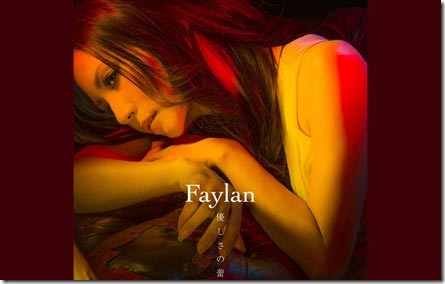 Faylan (飛蘭) has revealed more details for her 17th single Yasashisa no Tsubomi (優しさの蕾) – jacket covers, full track list, and more unveiled. Title track ballad with lyrics written by Faylan has tie-up as then ending theme for drama GARO: Makai no Hana (牙狼〈GARO〉-魔戒ノ花-). Single Yasashisa no Tsubomi hits stores April 30th 2014 – full details and audio preview follow.
Singer and songwriter Faylan most recently released album FAYvorite! on March 26th 2014. The album contains song covers she previously has only performed during live events. Previously Faylan released her 16th single BLUE BLAZE / BELIEVE with the main title track featured as opening theme anime BLAZBLUE ALTER MEMORY. Second title track BELIEVE also gets a tie-in as the theme song for Ragnarok Online: Ragnarok World Championship 2013. Single BLUE BLAZE / BELIEVE hit stores October 23th 2013 (more details).
Drama GARO: Makai no Hana is the fourth live action TV series in the GARO universe created by Amemiya Keita. The new series began airing April 4th 2014 on TV Tokyo. Trailer video follow below the release details.
Single Yasahisa no Tsubomi comes on one CD-only edition with both songs having lyrics written by Faylan and music provided by the team from Elements Garden lead by Noriyasu Agematsu. Purchase bonus photo at selected stores (check your store, while supplies last),
Faylan – Yasashisa no Tsubomi – release date April 30th 2014
Regular [CD] (¥1200)


 
[CD]
1. Yasashisa no Tsubomi
lyrics: Faylan, composer: Noriyasu Agematsu, arrangement: Evan Call
(preview)

2. Best Fighter
lyrics: Faylan, music: Kita Tomohiro

3. Yasashisa no Tsubomi (off vocal)
4. Best Fighter (off vocal)